The exhilarating calendar of Formula 1® had to take a back seat this year, but be sure to create unforgettable memories in 2021 with one of our incredible Grand Prix holidays, from the neon-lit streets of Singapore to the glitz and glamour of Monaco.
Singapore Grand Prix & Asia Cruise
11 September 2021
9 nights
Formula 1® racing, tranquil cruising and a hotel stay in one of the world's most exciting cities – embark on this action-packed adventure of a lifetime.
Begin your holiday with a hotel stay in the scintillating city of Singapore before taking a brief but beautiful cruise around the Malay Peninsula. Discover colonial treasures in Penang; unwind on golden sands in Phuket and feast on delicious seafood in Port Dickson.
Returning to Singapore, it's time to begin your Grand Prix experience. With a three-day bay Grandstand ticket, witness the world' s racing elite do battle down the floodlit streets that curve around Marina Bay. From high - speed straights to slow corners, experience a physically challenging race that will leave your heart pounding.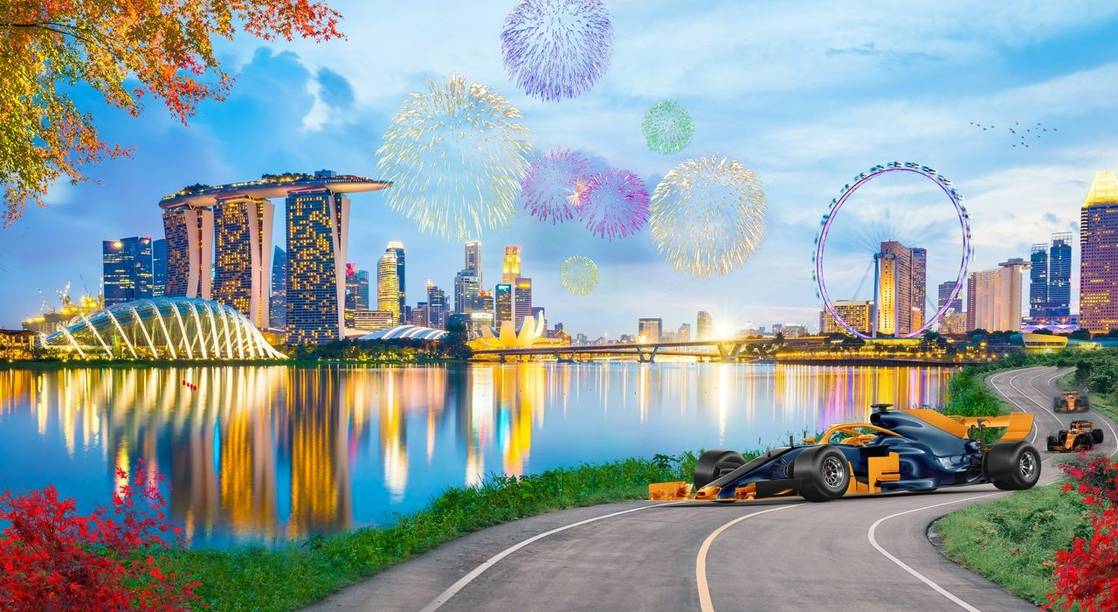 4 NIGHT SINGAPORE HOTEL STAY
The vibrant city of Singapore is a kaleidoscope of curious contrasts and futuristic architecture. Lose yourself in the colourful otherworldly structures at Gardens by the Bay, enjoy captivating views of the sprawling city from the incredible SkyPark, or wander through bustling Chinatown, a maze of narrow streets awash with restaurants and souvenir shops.
BEST SEATS IN THE HOUSE
Immerse yourself in the exhilarating atmosphere from your seat in the Bay Grandstand. Hear the roar as the cars fly past and disappear, breathe in the scent of burning rubber as tyres skim around the track and marvel at your surroundings of cheering crowds against the backdrop of the city's neon-lit skyline.
LIVE ENTERTAINMENT
This incredible three-day event doesn't stop at fast and furious motor racing. You'll find multiple stages around the circuit boasting renowned performers from all over the world, including illusionists, theatre and circus-cabaret acts. The main Padang stage hosts the biggest headline acts which bring the day's excitement to a close on practice, qualifying and race days.
MARTIN BRUNDLE INSIGHT SESSION
If you book a Balcony cabin or above, you'll join Formula 1 legend, Martin Brundle, for a stellar evening of Grand Prix reminiscing and insights about the race at an exclusive Imagine Cruising event in the centre of Singapore. Enjoy a drinks reception and canapes before the chance to engage in a lively Q&A session.
SOUTHEAST ASIA CRUISE
Genting Dream features all the comforts of authentic Asian hospitality, combined with the finest experiences from around the world. Indulge in different cuisines with over 35 restaurant and bar concepts on board and immerse yourself in fun-filled activities and elegant performances.
YOUR ITINERARY
Settle in for a sensational cruise around the coastal jewels of the Malacca Strait. Highlights of your adventure include Penang, whose capital George Town is known for its British colonial architecture, and Thailand's paradise getaway, Phuket. Veiled with rainforests and peppered with temples.
Watch our interview with Kelvin Fletcher and Mark Gallagher for insights into the Singapore F1 weekend
A late entrant to the competition, Kelvin Fletcher stormed his way to the final of Strictly Come Dancing and went on to win the glitterball trophy 2019. Best known for his portrayal of Andy Sugden in ITV's Emmerdale, Kelvin starred in the well-loved British soap for more than twenty years, winning a host of nominations and wins at the British Soap Awards, including Best Actor, Best Dramatic Performance and Scene of the Year.
When he's not acting or shimmying across the dance floor, Kelvin pursues his passion for cars and won the 2019 British GT4 Championship.
STRICTLY COME DANCING WINNER
Kelvin up close and personal with our customers in Monaco
Watch our interview with Kelvin Fletcher and Mark Gallagher as they relive their memories of the 2019 Monaco Grand Prix weekend and give their insights into this iconic race
Mediterranean Cruise & Monaco Grand Prix
20 May 2021
11 nights
Embrace the sun-kissed splendour of Nice, a city in the heart of the French Riviera and just a few miles from the principality of Monaco, host of the world's most prestigious Grand Prix circuit.
Savour the glamour of your surroundings at an exclusive yacht event in Monaco's glittering harbour. Here, you'll get to meet motor-racing legend, Martin Brundle, while enjoying a champagne reception, accompanied by a fascinating Q&A session. You'll also get to see the race itself, an exhilarating spectacle set amongst the streets and harbour of this superb city.
Follow this with a stunning Mediterranean cruise that includes the picturesque villages of La Spezia, Rome's ancient marvels, the unique architecture of Barcelona, and Cannes, a town synonymous with the world's best-known film festival.
4 NIGHT NICE HOTEL STAY
Discover the delights of Nice, a jewel on the French Riviera that has long been a magnet for British expats craving some winter sun. You'll stay in a hotel at the heart of this city, known for its handsome architecture, palm-lined esplanades and softly lit skies – all captured on canvas over the years by some of the world's greatest painters.
VIP LUXURY YACHT EXPERIENCE
If you book a Balcony or above, you'll enjoy an exclusive Imagine Cruising event on board a luxury yacht overlooking the track in the Marina. After being tendered out to the yacht, you'll be welcomed with a champagne reception before having lunch and drinks as you watch the cars fly by and enjoy an exclusive meet and greet and Q&A with F1 Legend, Martin Brundle.
BEST SEATS IN THE HOUSE
Witness the most prestigious Grand Prix of them all on a circuit known for its electric atmosphere and exhilarating sights, from the harbour to the upmarket high-rise apartment that loom over it. Watch from your superb grandstand vantage point as the sport's elite drivers – including current champion, Lewis Hamilton - battle for the top spot.
MARTIN BRUNDLE INSIGHT SESSION
Board a yacht in the glitzy harbour of Monaco for an exclusive evening of drinks and canapes with motor-racing legend, Martin Brundle. An engaging Q&A promises to be one of the highlights of the night as you are regaled with stories about the races and characters that are part of Grand Prix lore.
MEDITERRANEAN VOYAGE
Embarking MSC Grandiosa is to step into a wonderland at sea. The newest and most innovative ship in the MSC fleet, it's home to an impressive line-up of activities, entertainment venues and restaurants. Watch the gravity-defying performers of Cirque de Soleil, or dine at one of eleven diverse eateries.
YOUR ITINERARY
The Mediterranean Sea is a perennially popular cruise destination and is home to everything from idyllic coastal villages to vibrant cities. You'll get the best of both on this cruise, stopping off at La Spezia, home to cliff-hugging villages, and mighty Rome, as well as Catalan capital, Barcelona, and A-list magnet, Cannes.
Be in with a chance of Winning a Top Gear Ultimate Track Day Experience with Kelvin Fletcher
Imagine Cruising has teamed up with Kelvin Fletcher and the Bentley team to create an exclusive track day experience. You will have the opportunity to take to the wheel of Bentley supercars, as well as a thrilling hot lap in the Bentley GT3 car driven by the professionals!