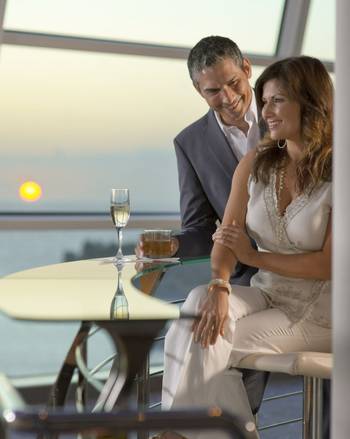 Cruise with
Celebrity Cruises
Sailing to over 300 destinations on seven continents, the multi-award-winning Celebrity Cruises combines exemplary service, modern luxury and futuristic culinary experiences. Indeed, its 'Le Petit Chef' concept is a prime example of the later, fusing fine-dining with a quirky animation technology.
Since it was founded in 1988 it has emerged as an industry innovator that caters for all kinds of passenger, from nature lovers to culture vultures to those who love basking on idyllic sun-kissed beaches in the tropics with a cocktail in hand. Offering an enticing list of globe-spanning itineraries, there's a cruise for everyone with Celebrity Cruises, a shipping line that continues to redefine modern travel.
The Experience
Celebrity dispels with tradition and serves up an endless trove of hi-tech experiences and fun activities within a distinctly carefree atmosphere. There's the Celebrity iLounge, an internet sanctuary where you can learn how to make the most of your Apple products, a cantilevered platform called the Magic Carpet – a drinks and dining venue like no other – and there's the added bonus of a member of staff for every two guests ensuring you feel thoroughly looked after.
Event cruises
Perfectly planned event cruising is one of Celebrity's strengths and it puts on a host of them throughout the year. Ramp up your gastronomic game with a culinary cruise attended by top chefs who'll share their top tips. A salsa cruise takes you to South America and features a vibrant mix of salsa artists, fun dancing lessons and even comedians. Several events also cater for the LGBTQ community.
An array of places to eat
Varying from ship to ship, Celebrity's astonishing amount of dining options covers a vast spectrum of international cuisines, from fresh sushi to rustic Italian. For a truly spectacular culinary experience try one of its speciality restaurants with dishes concocted by Michelinstar chefs. Celebrity is also known for its boundary-pushing 'Le Petit' Chef concept, where an animated tabletop display previews the dish you're about to eat.
Sensual escapes
Celebrity has created a spa experience that will transport you into a den of tranquillity between ports. Pick from a lavish menu of treatments that includes everything from detoxifying body wraps to minor cosmetic enhancements like Botox. You could also indulge yourself in the nature-inspired SEA Thermal Suite, while men can get a smooth shave and haircut at the luxurious salon.
The night is yours
On Solstice-class and Millennium-class ships, let loose at a rock concert in the main theatre, be dazzled by dance extravaganzas, or head for one of several diverse clubs and bars. You could enjoy live acoustic music under the stars at the Rooftop Garden, or a watch a classic or newly released movie. And there's always something going on at The Club, from TV-style game shows to finding your way out of laser mazes.
Captain's Club
By joining Celebrity's Captain's Club, you'll enjoy a number of cruise rewards that will enhance your voyage. Benefits include priority boarding, complimentary laundry service, upgrades and additional events on board, while you'll also receive personal invitations to members-only events. The more you sail with celebrity, the more points you accrue. It's a great way of getting the most out of Celebrity cruise.