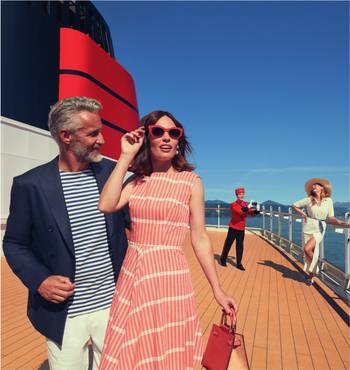 Cruise with
Cunard
The name Cunard is synonymous with luxury cruising and boasts an unrivalled maritime heritage dating back almost two centuries. From round-the-world voyages to iconic transatlantic crossings, it's a name that has achieved legendary status within the cruising industry.
From royalty to the stars of the Silver Screen, its ships have welcomed aboard an endless line-up of illustrious figures and continue to do so in unparalleled style and to the furthest points of the globe. Travel on one of its trio of world-famous ships, each one of them a paragon of nautical excellence, and create your own Cunard story.
The Experience
No other shipping line radiates the maritime elegance and illustrious heritage of Cunard. From the moment you step aboard one of its ships, you'll be struck by the exquisite attention to detail. Polished brass fittings, Art Décor interiors and white-gloved waiters – all this and more creates the ambience of a bygone age. And with a high staff-to-passenger ratio, you'll find yourself well attended to, from morning till night.
The Britannia Experience
Book a Britannia Club stateroom and get your own spacious private balcony, king-size bed and a seven-pillow menu to choose from. Enjoy, sparkling wine on arrival, fresh fruit on request and you can dine in the grandeur of the Britannia Club restaurant, morning, noon or evening, giving your dining options added flexibility. You'll also get 24-hour room service and a nightly turn-down service with complimentary chocolate.
An array of places to eat
A wealth of dining options awaits on any Cunard cruise. Whatever your culinary tastes or requirements, you'll be met with a mouth-watering array of dishes. In the main dining areas, expect delicacies like poached quails' eggs and mango panna cotta for dessert. Or you could go for the alternative options. Bamboo serves up wonderful Asian-influenced dishes, while Aztec's menu features familiar Mexican favourites.
A treat for all your senses
You'll find a superb spa on each of Cunard's ships. On the Queen Victoria and Queen Elizabeth you can opt for one of the ocean-inspired treatments at the Mareel Wellness & Beauty spa, which is home to the Aqua Therapy Centre. The Mareel Spa on the Queen Mary 2 has a substantial treatment menu that includes everything from luxury facials to organic body wraps, massages to manicures.
The night is yours
One of the highlights of any Cunard cruise is the themed gala ball, a lavish occasion where you'll get to don you finest garb. Sweep around the Queens Room to the sounds of an eight-piece orchestra, just the way it's been done for decades before you. Of course, there are also a variety of evening performances to enjoy too, from West End-style musicals to accomplished magicians. Every night brings a new experience.
Event voyages
Whether you have a passion for fashion, a love of literature or want to immerse yourself in a feast of classical music with like-minded aficionados, Cunard's event voyages are a wonderful and enriching experience. Expect exclusive speakers and events on board, as well as bespoke shore excursions in selected ports of call. And, of course, you'll still get all the benefits that come with a Cunard voyage.