Calgary Stampede, Lake Louise & Luxury Rocky Mountaineer Experience
Includes an Alaskan Voyage and an All-Inclusive Rocky Mountaineer Rail Journey
Limited Availability | 2 Day Ticket to the Calgary Stampede | FREE Drinks Package*
16 nights | 16 Jul 2021
Calgary Stampede, Lake Louise & Luxury Rocky Mountaineer Experience
Includes an Alaskan Voyage and an All-Inclusive Rocky Mountaineer Rail Journey
Limited Availability | 2 Day Ticket to the Calgary Stampede | FREE Drinks Package*
16 nights | 16 Jul 2021
Calgary Stampede, Lake Louise & Luxury Rocky Mountaineer Experience
Includes an Alaskan Voyage and an All-Inclusive Rocky Mountaineer Rail Journey
Limited Availability | 2 Day Ticket to the Calgary Stampede | FREE Drinks Package*
16 nights | 16 Jul 2021
Get The Full Experience...
Saddle up cowboy as you're going for a ride in Canada's Wild West at the Calgary Stampede, the largest rodeo show in the world.
Slide on your cowboy boots, blue jeans and button up your checked shirt because when you fly to Calgary, you'll enjoy a ticket to the famed two-day Calgary Stampede. Witness as man tries to tame beast in lively rodeos, before you watch competitors grab the bull by the horns in rounds of bull riding. Transferring to Banff, you'll embrace the quieter things in life during an escorted tour which will take you to one of the most photographic scenes in Canada – Lake Louise. Next you'll board the Rocky Mountaineer, a luxury rail journey that glides into the heart of the Canadian Rockies, discover stunning sights from dramatic gorges to sparkling lakeside beauties. Marvel at the sight of winding, turquoise rivers bisecting deep valleys, towering trees clinging to cliff faces while dining on regional inspired dishes. Finally, round off your North America experience with a luxury cruise through Alaska's icy and spectacular scenery on board Koningsdam.
Package Includes
3 night hotel stay in Calgary
2 day ticket to the Calgary Stampede

2

night hotel stay in

Banff

Fully escorted Banff National Park tour including a visit to Lake Louise
2 day all-inclusive luxury Rocky Mountaineer rail journey from Banff to Vancouver including an overnight hotel stay in

Kamloops

3 night hotel stay in Vancouver with a fully escorted city tour
7 night full-board cruise on board Koningsdam
*FREE drinks package when you book an Ocean View cabin or above
All transfers
All flights (London departure)
ATOL protected
Flight from
Other regional airports may be available*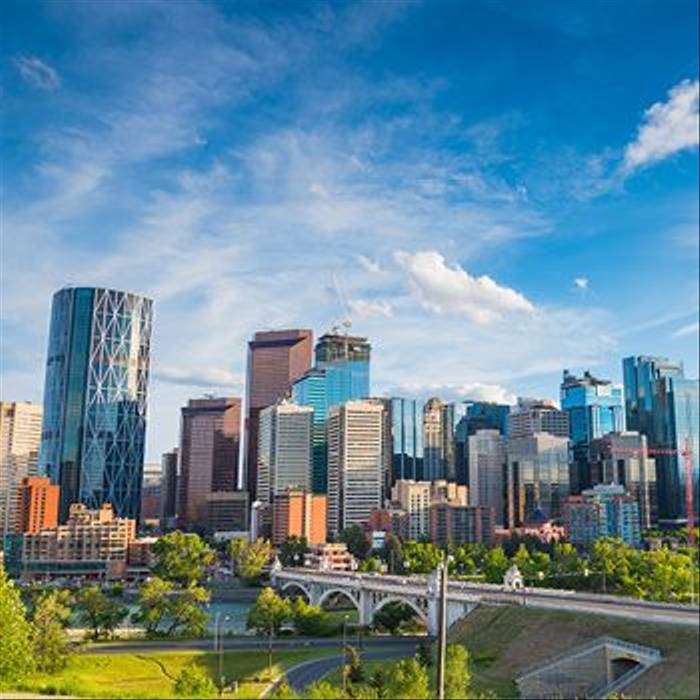 Beginning your incredible Canada discovery in Calgary, settle into this vivacious town for a three night hotel stay. Emboldened with cowboy spirit, complete with ten-gallon hats and checked shirts, Calgary is also known as Cowtown due to being in the middle of Canada's largest beef-cattle producing region. Get your cowboy boots on because you're going to be in for a wild ride!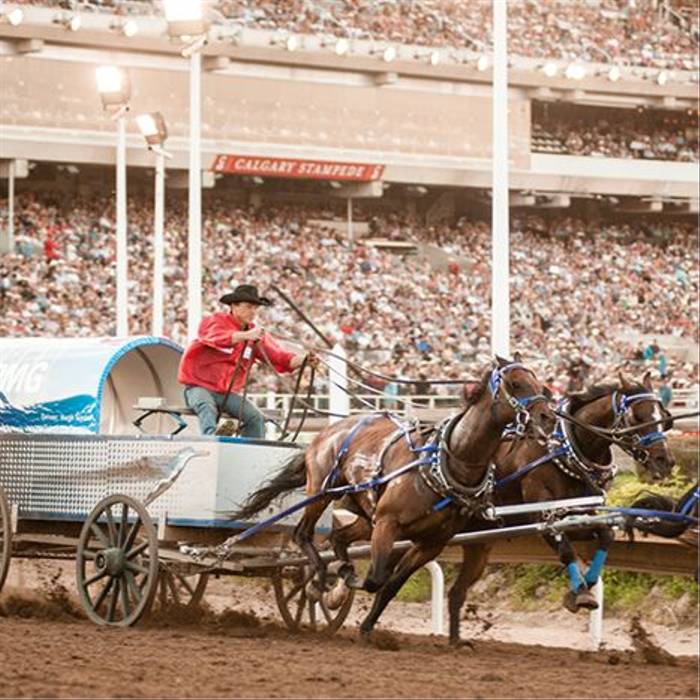 Calgary
- Hotel Stay and Calgary Stampede
Considered 'The Greatest Outdoor Show on Earth' as well as the largest rodeo show in the world, Calgary Stampede has a rich history that stretches back to its conception in 1912. A celebration of Wild Western tradition and the great outdoors, you'll find the locals' spirit infectious as you head to your first day here. Witness the nail-bitingly intense chuckwagon derby, steer wrestling and barrel racing, then to wind down from the day's excitement, watch a lavish, musical variety grandstand show in the evening.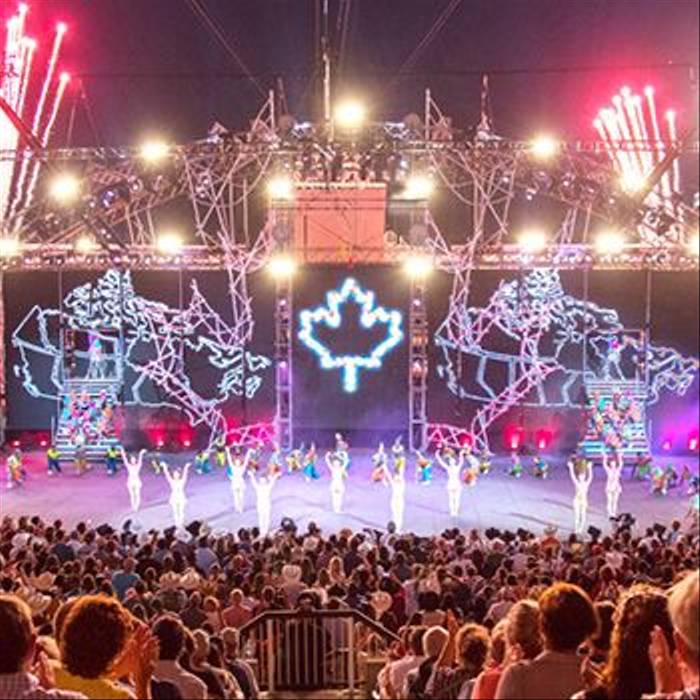 Calgary
- Hotel Stay and Calgary Stampede
For your finale of this epic two day festival, you'll discover a true Wild West ritual of world-class rodeo action. Discover cowboys of old holding their seats on bucking broncos both saddled and bareback. As if this wasn't intense enough, you'll also watch as competitors literally grab the bull by the horns in the most dangerous competition during this festival: bull riding.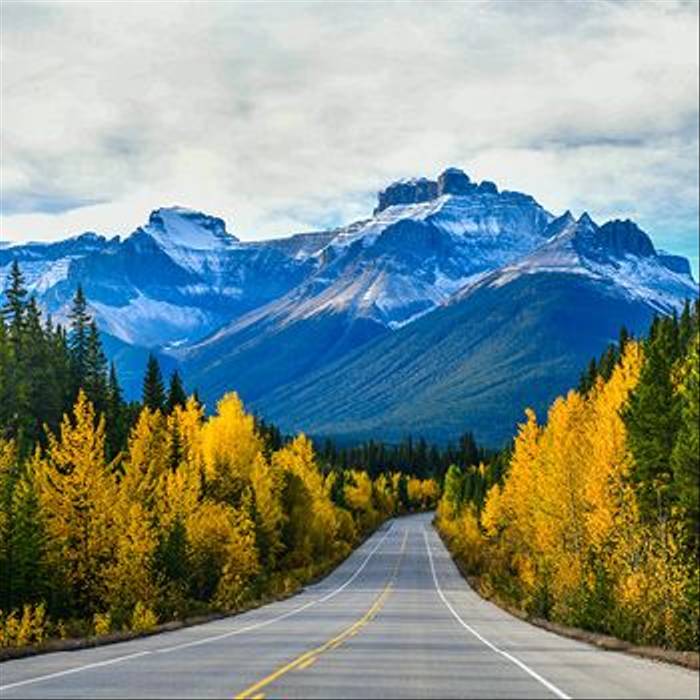 Tipping your hat goodbye to Calgary, you'll start your scenic journey to Banff. Winding your way through the rolling foothills of the Rocky Mountains, you'll uncover the verdant nature of Banff National Park, set against a stunning backdrop of majestic mountain peaks. Arriving in Banff Town, enjoy an orientation tour which includes visiting the cascading rumble of Bow Falls and Tunnel Mountain.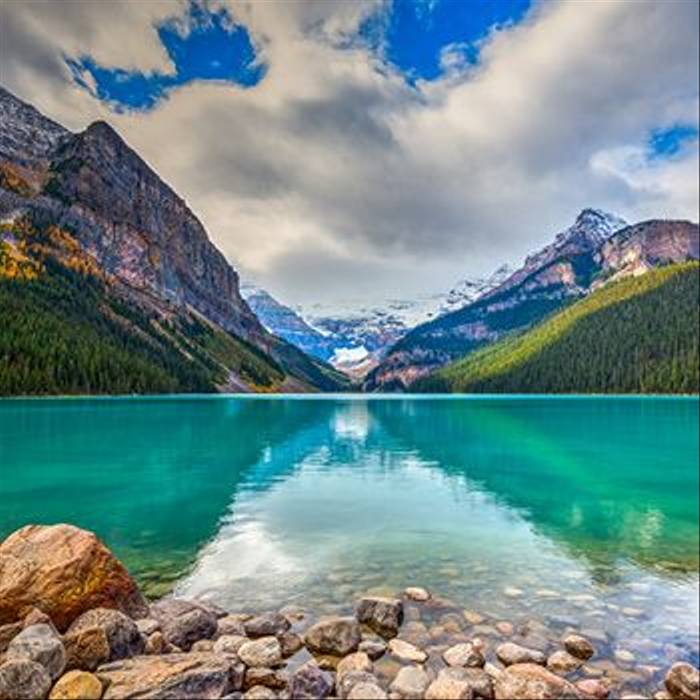 Banff
- Hotel Stay and Lake Louise Tour
After your brief teaser of Banff National Park yesterday, today you can look forward to your fully escorted tour. Delve into the shadows of soaring pine trees, breathe in the crisp mountain air and discover one of the most photographic scenes in Canada: Lake Louise. Shimmering with sunlight, fringed with lush greenery and enclosed by sharp, majestic peaks, Lake Louise captures the imagination of anyone who stands before it.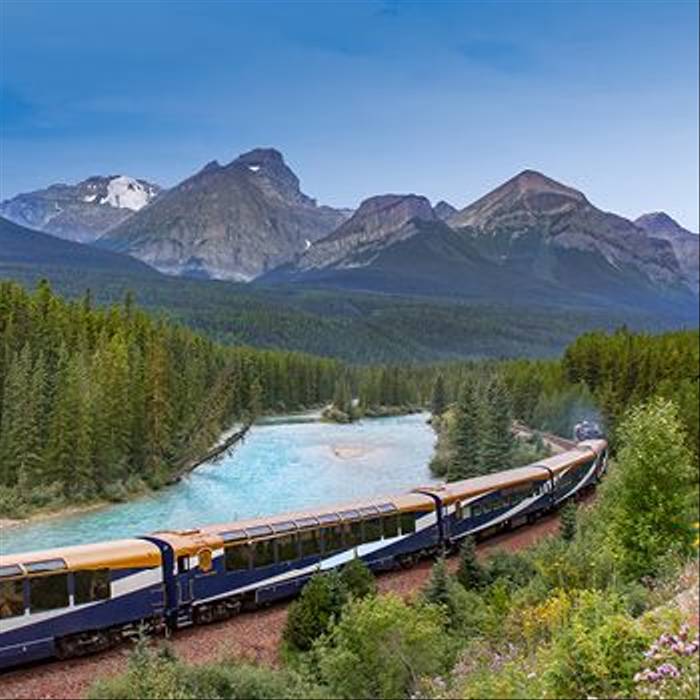 Banff
- Rocky Mountaineer Rail Journey and Kamloops Hotel Stay
Today you'll embark the Rocky Mountaineer, a luxury rail journey that glides into the heart of the Canadian Rockies, filled with stunning sights from dramatic gorges to sparkling lakeside beauties. Settling into your seat, stare out the green pines blurring past your window and enjoy particular highlights such as the Spiral Tunnels and Kicking Horse Canyon. You'll disembark in Kamloops for an overnight stay before the second half of your rail journey tomorrow.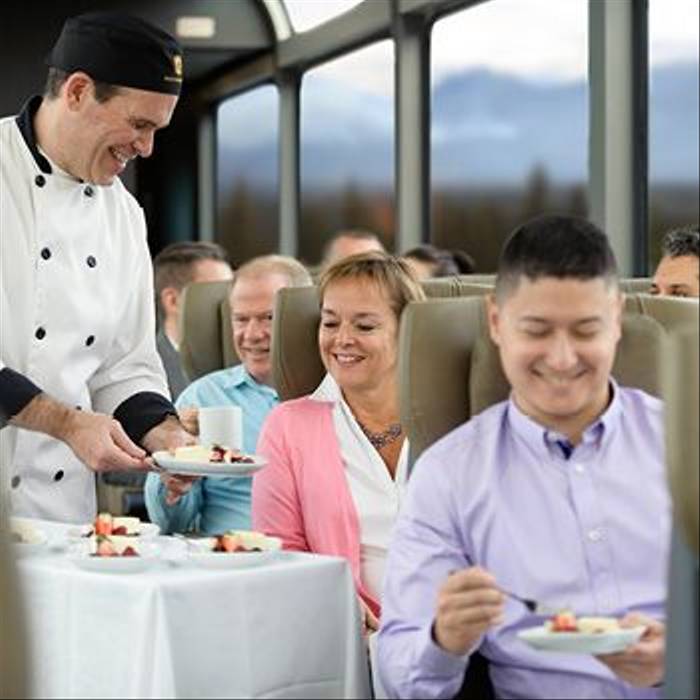 Kamloops
- Rocky Mountaineer Rail Journey and Vancouver Hotel Stay
On the next part of your journey on board the Rocky Mountaineer, you'll experience the diverse landscapes of Canada from parched, desert-like scenes to lush, dense vegetation. Marvel at the sight of winding, turquoise rivers bisecting deep valleys, towering trees clinging to cliff faces while dining on regional inspired dishes such as Fraser River grilled salmon with Okanagan wines. As all great things, you'll end your journey in Vancouver and disembark for a night before your cruise.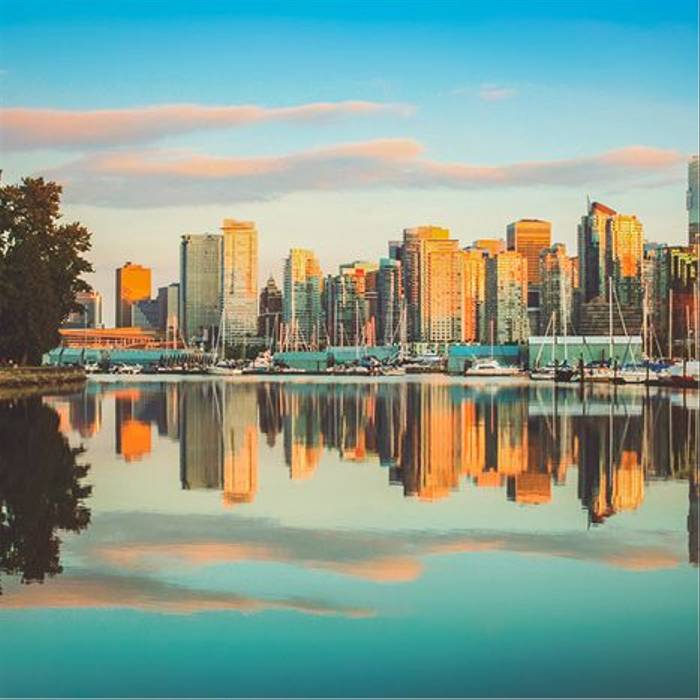 Vancouver, poised between the sparkling ocean and majestic snow-draped mountains has been named one of the most beautiful cities in the world. With spectacular scenery that offers plenty of opportunities to see wildlife and roam the great outdoors, this easy-going city has many urban attractions too, including an exciting arts culture and some of Canada's best culinary experiences.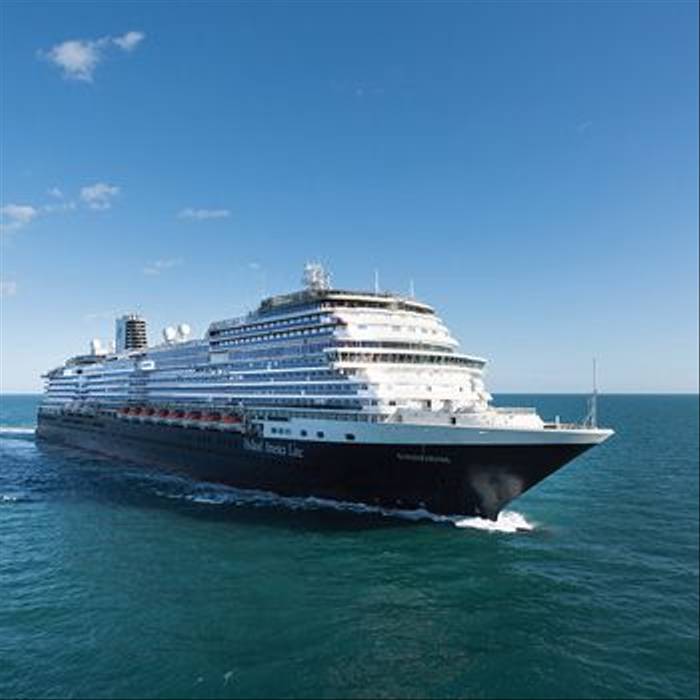 Vancouver
- Embark Koningsdam
Embark Koningsdam, a sleek and spacious ship with refined dining options, fabulous entertainment and cosy bars. Launched in 2016, Koningsdam is the newest and largest Holland America ship of the new Pinnacle class. The vessel's name is in Dutch and means "koning" (king), honouring HM Willem-Alexander of the Netherlands.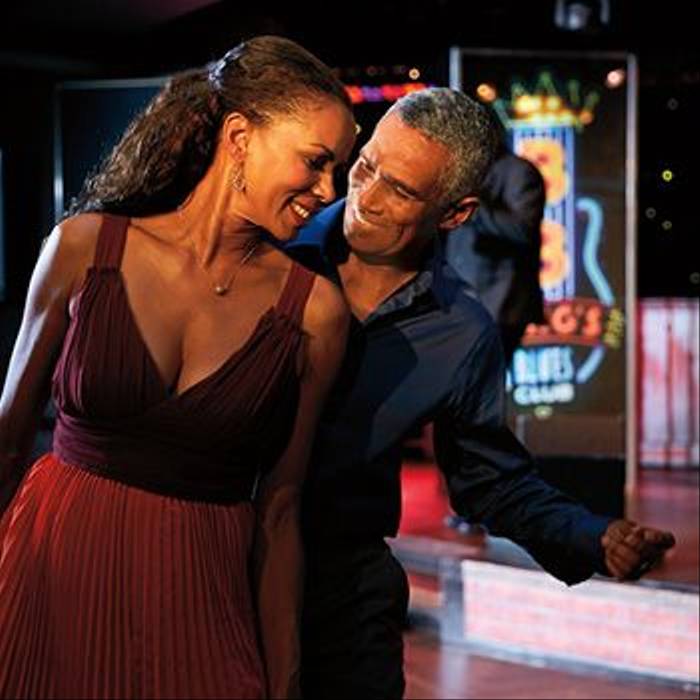 Entertainment has always been the heart and soul of evenings aboard Holland America Line, and on Koningsdam that promise continues with Music Walk, three stages presenting a variety of live music nightly, the Lincoln Center Stage, B.B. Kings Blues Club and the Rolling Stone Rock Room where you can dance the night away to all your favourite chart-topping hits from the last 50 years.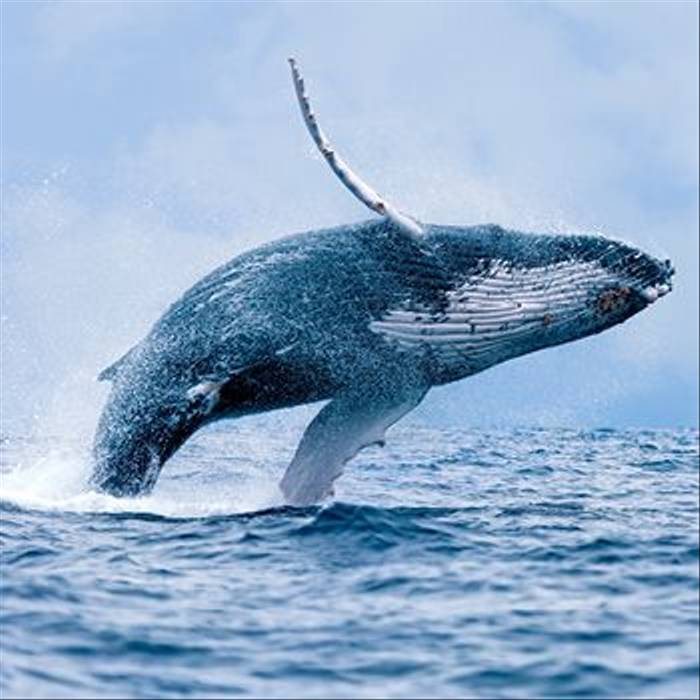 Juneau is Alaska's capital and stands on the edge of the Alaskan wilderness, with a giant icefield behind its mountains that created 38 glaciers, including the mighty Mendenhall Glacier just a few miles from the city. It's also home to incredible array of wildlife and nature lovers can see sea lions, sea otters, whales, bald eagles as well as brown and black bears here.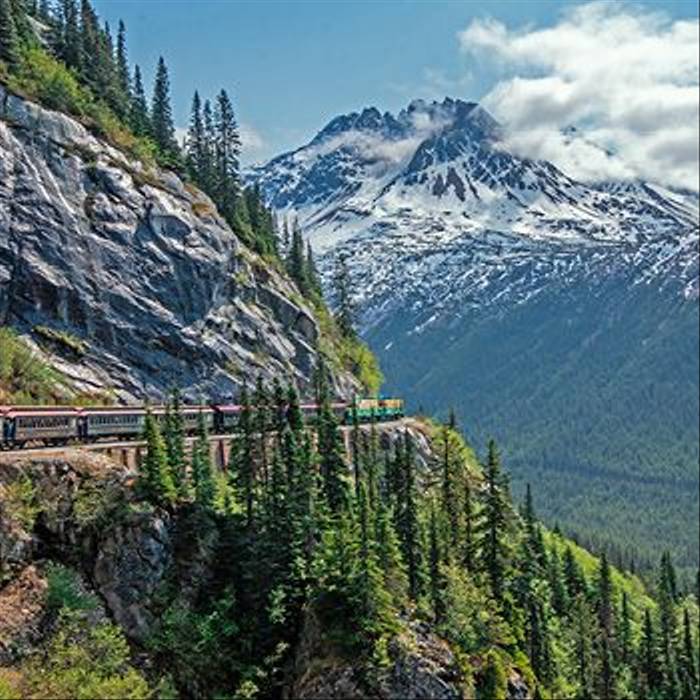 Once known for the Gold-Rush era, Skagway has settled down into a busy city. Vintage railways run through this historic city and provide incredible views along its tracks. Board a train to explore the White Pass Railway that winds through this staggering valley. The beauty in Alaska is unparalleled especially by kayaking on the Dewey Lakes, so sit back and listen to the overwhelming silence broken only by the sounds of nature.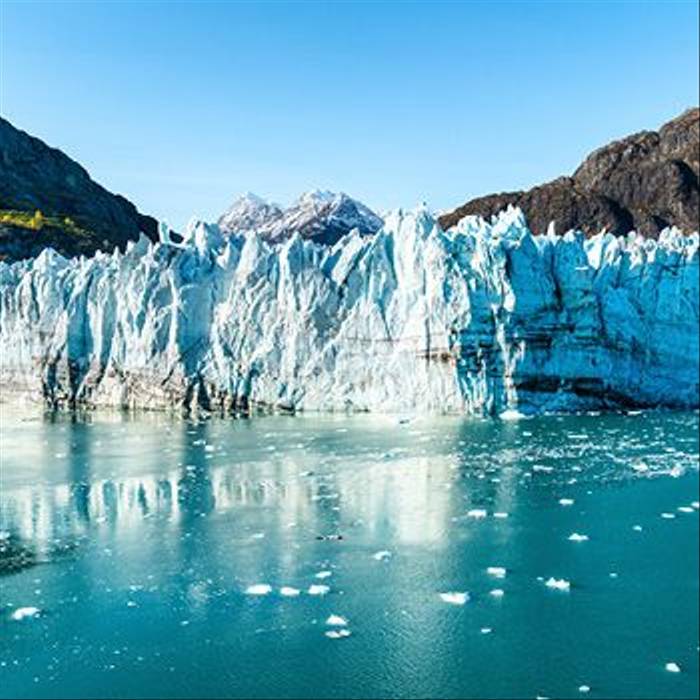 Glacier Bay (Scenic Cruising)
Make sure you wrap up warm as you head into Glacier Bay for the next part of your cruise. Koningsdam will sail through this bay so you can marvel at the jagged glaciers and snow-dusted mountains. Alaska is abundant with wildlife so check to see if there are any brown bears or sea otters prowling or scampering on the shoreline too.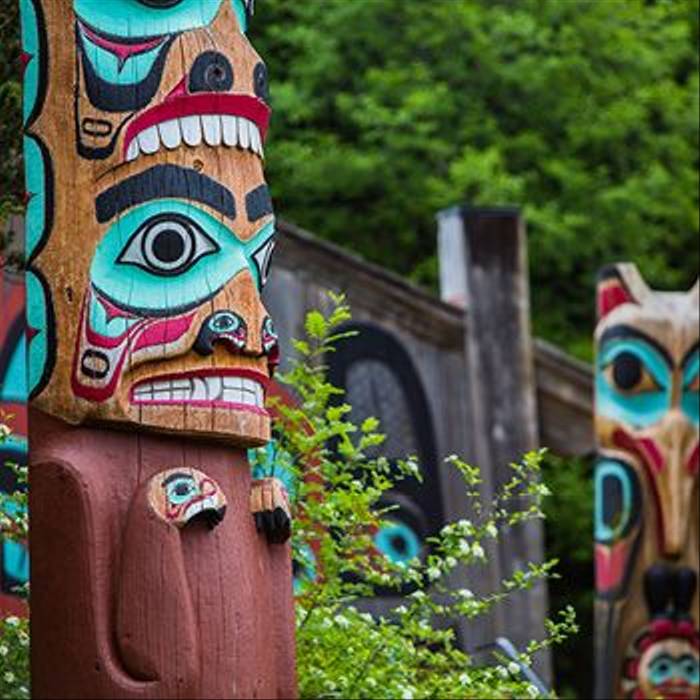 After you sail past the glacier-cut landscape, you'll dock in Ketchikan. While the surrounding trees and wildlife are huge drawing points, you could visit the Totem Heritage Centre where it holds the largest amount of unrestored 19th century totem poles. If you want to experience true Alaskan culture, you could venture to the Great Alaskan Lumberjack Show or Creek Street, a promenade built entirely on wooden stilts to merge with the valley's rustic aesthetic.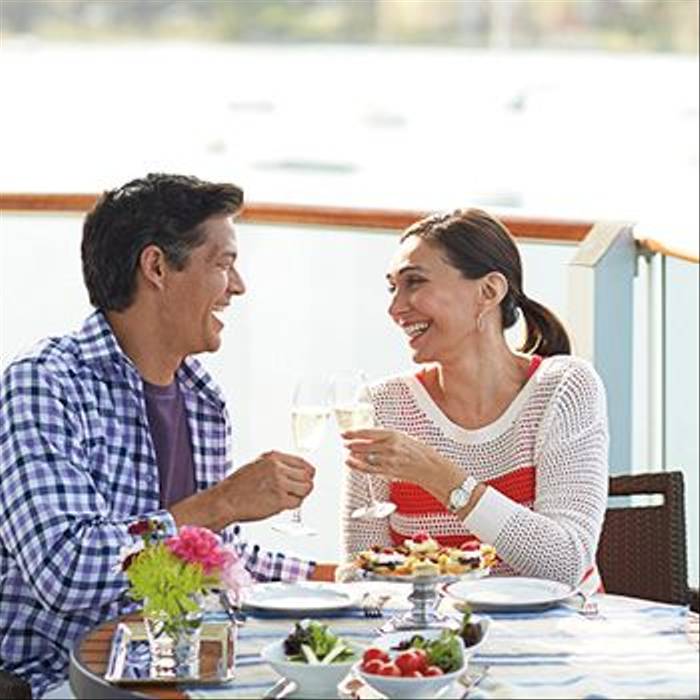 From the traditional Dining Room to New York Deli & Pizza, Koningsdam offers a fantastic range of dining options. In the Lido Market you'll find a buffet style venue serving dishes such as salads and herb-roasted chicken, while the Dining Room offers delights such as New York strip loin, grilled salmon, veal cordon bleu, chocolate avalanche cake and cherry Pavlova. There's also a selection of fee dining available for anyone who wishes to treat themselves to something a little more special.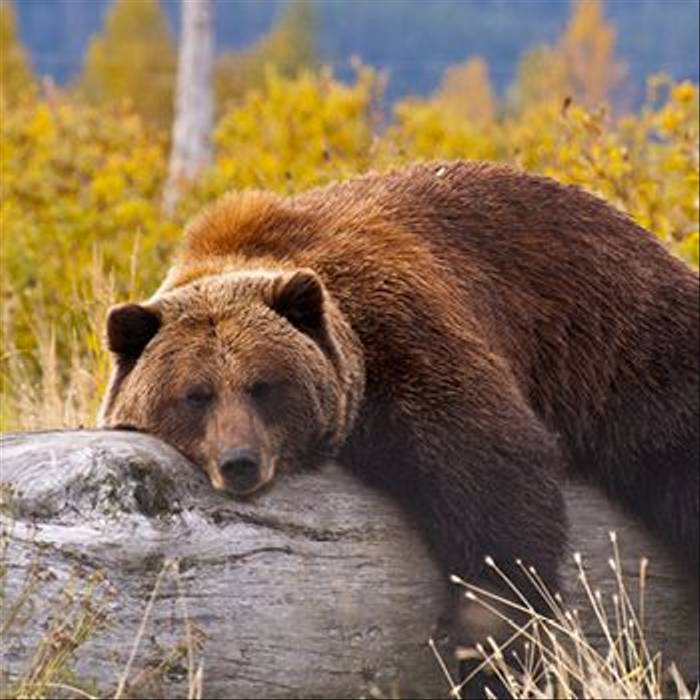 Vancouver
- Disembark Koningsdam and Hotel Stay
Vancouver provides stunning scenery to discover with endless outdoor activities all year-round. Have breakfast with a grizzly bear at Grouse Mountain or appreciate nature from the thrilling perspective of the Capilano Suspension Bridge, just two of the city's highlights, as is a visit to Stanley Park, a 400-hectare oasis in the middle of the city with scenic mountain and ocean views.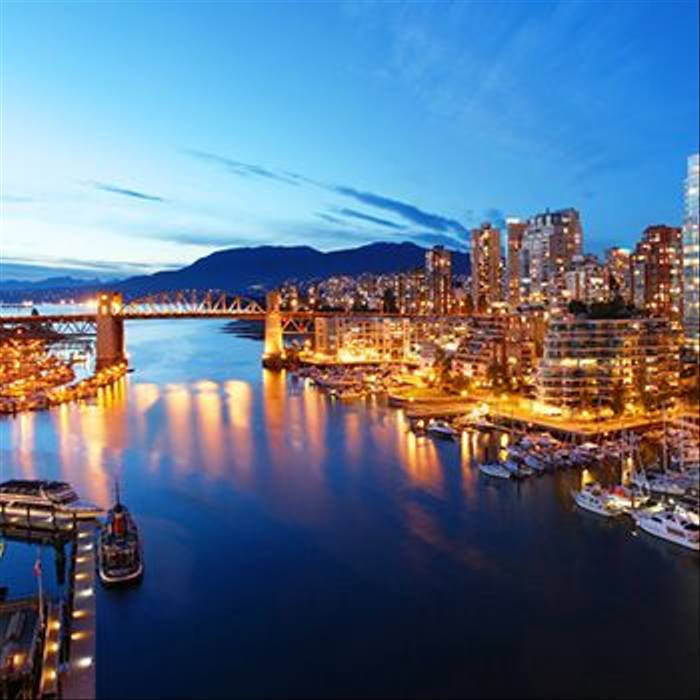 Explore this city with your guide from Stanley Park where you can discover the bright totem poles standing guard to urban Gastown, complete with Victorian-style buildings filled with stylish galleries. A few other highlights include a visit to the Chinatown with its delicious mix of restaurants and cocktail bars. Saying goodbye to your North America adventure you'll fly home that afternoon.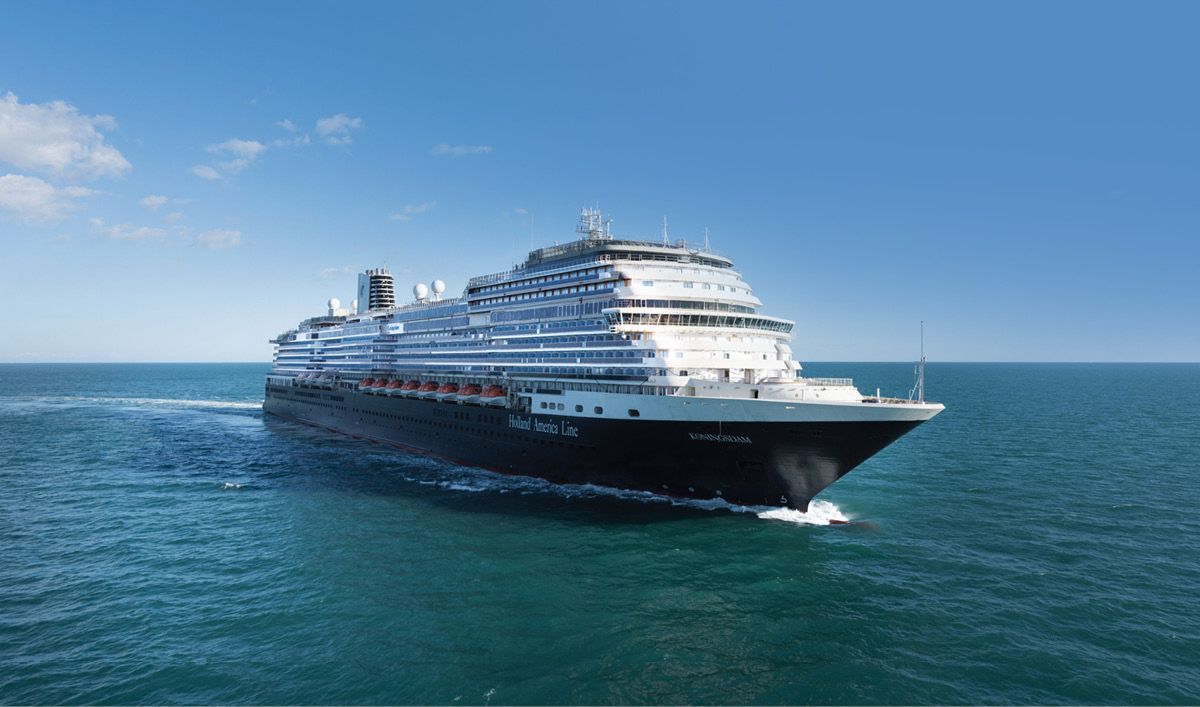 Koningsdam embodies all of the tradition, nautical heritage, and signature service and style for which Holland America Line is known—while raising the bar for 21st-century elegance. Inspired by music, her design features fluid lines, light-filled spaces and entertainment venues. With a range of fantastic dining venues including poolside burgers at Dive-In or American Pacific style dining at Pinnacle Grill; and activities from wine tasting to Pilates classes, Koningsdam is the ideal choice for your next cruise holiday.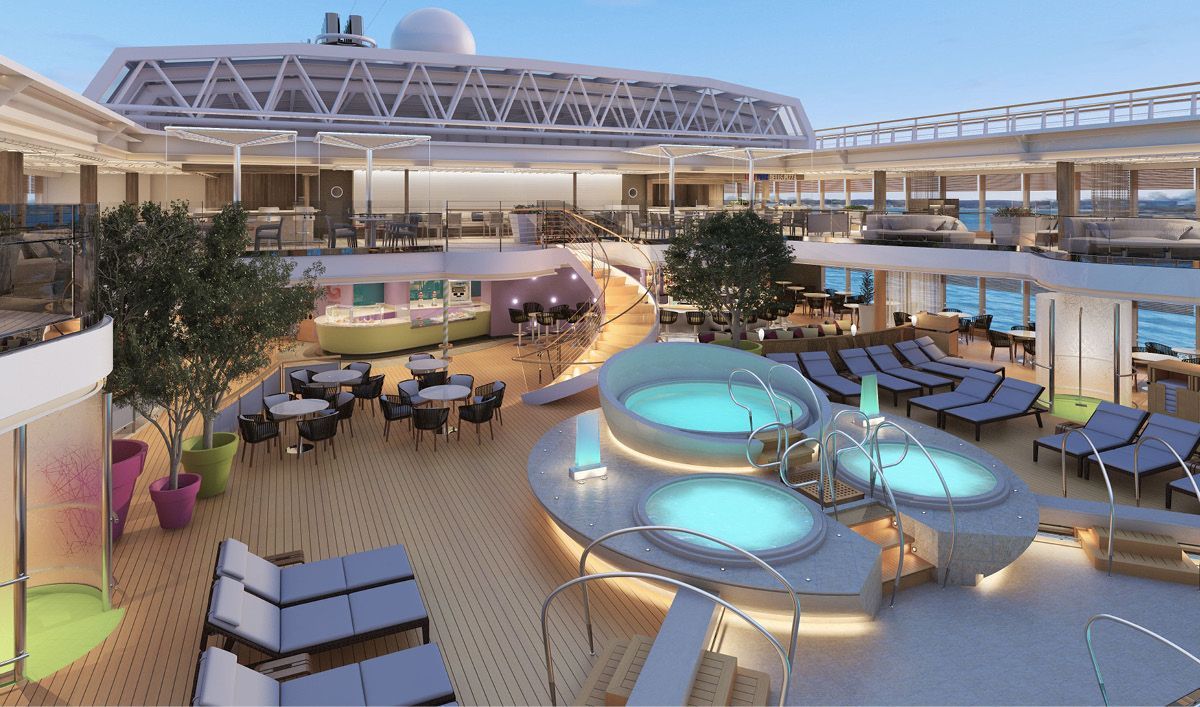 Rolling Stone Rock Room
Step into the pages of Rolling Stone magazine and relive rock history as live bands perform your favourite hits.
Explorations Central
Learn more about the destinations you're visiting with insightful cultural activities and encounters.
Greenhouse Spa & Salon
Refresh your body and spirit with a relaxing massage or pampering treatment at this heavenly retreat.