No-Fly Venice Simplon-Orient-Express & Mediterranean Escape
Includes a Cunard Voyage and Lake Garda Hotel Stay
Exclusive to Imagine Cruising | Luxury Venice Simplon-Orient-Express Rail Journey
17 nights | 03 Oct 2021
No-Fly Venice Simplon-Orient-Express & Mediterranean Escape
Includes a Cunard Voyage and Lake Garda Hotel Stay
Exclusive to Imagine Cruising | Luxury Venice Simplon-Orient-Express Rail Journey
17 nights | 03 Oct 2021
No-Fly Venice Simplon-Orient-Express & Mediterranean Escape
Includes a Cunard Voyage and Lake Garda Hotel Stay
Exclusive to Imagine Cruising | Luxury Venice Simplon-Orient-Express Rail Journey
17 nights | 03 Oct 2021
Get The Full Experience...
From a luxury rail journey on the iconic Venice Simplon-Orient-Express, to sipping world-class wine in Lake Garda, discover the beauty of the Mediterranean during this no-fly cruise holiday.
Among the many reasons the VeniceSimplon-Orient-Express has become the hallmark for luxury rail travel are its exquisite dining and service. Surrounded by Lalique glass and glossy wooden panelling, you'll be attended to by your own personal steward, for whom no demand is too small - from asking about the history of the train to requesting another glass of bubbly. Arriving in Verona you'll be whisked to the dramatic landscape of Lake Garda where you can explore its beauty before enjoying a wine tasting tour. To round off this incredible experience, you'll also stay in Venice, a destination shrouded in mystery and laced with intricate waterways where you could embark an iconic gondola for a different perspective. Finally embark Queen Victoria for a scenic, sunny cruise back to England.
Package Includes
2 day full-board luxury Venice Simplon-Orient-Express train journey from London to Verona

Dedicated steward service
Gourmet brunch, four-course dinner, continental breakfast and three-course lunch
Enjoy views of the snow-peaked Swiss Alps during your journey
Afternoon tea aboard the Belmond British Pullman

4 night stay in Lake Garda at the Palace Hotel Desenzano
Fully escorted wine tasting tour in Lake Garda
2 night stay in Venice at the Duodo Palace Hotel
10 night full-board cruise on board Queen Victoria
Up to $270 on board credit per couple
All hotel stays include breakfast
All transfers
ATOL protected
Flight from
Other regional airports may be available*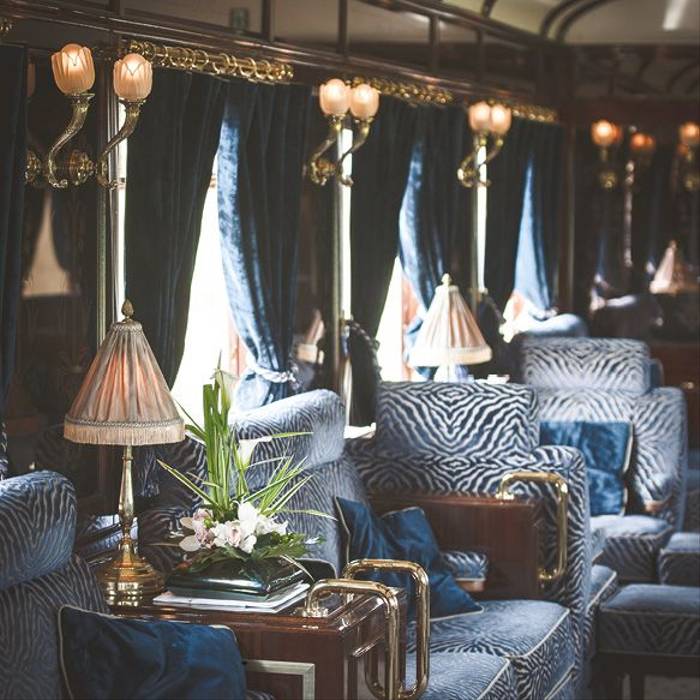 London
- Embark Venice Simplon-Orient-Express
Today embark your luxury rail journey to Verona on board the Venice Simplon-Orient-Express, a journey that whisks you back to a time immortalised by Agatha Christie. With Art Deco-styled carriage interiors, liveried staff and gourmet meals, enjoy your journey through the Swiss Alps where stunning scenery rolls and flourishes outside your window. Finally, to round off the perfect day, head back to your cabin to find it has been effortlessly converted into a haven of rest.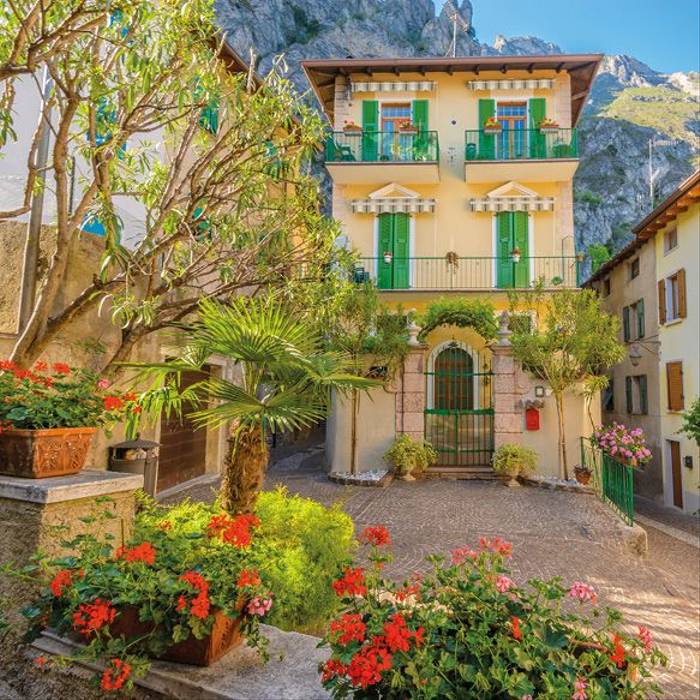 Verona
- Disembark Venice Simplon-Orient-Express and Lake Garda Hotel Stay
After disembarking in Verona you'll transfer to gorgeous Lake Garda, Italy's largest lake. This destination has a universal charm that attracts people from all walks of life. Enjoy every second of it with this four night hotel stay, from unique medieval villages in the south, to mountainous retreats and rocky cliffs in the north. Stroll through the vineyards and sample a glass of Bardolino, a regional red wine which pairs beautifully with risotto.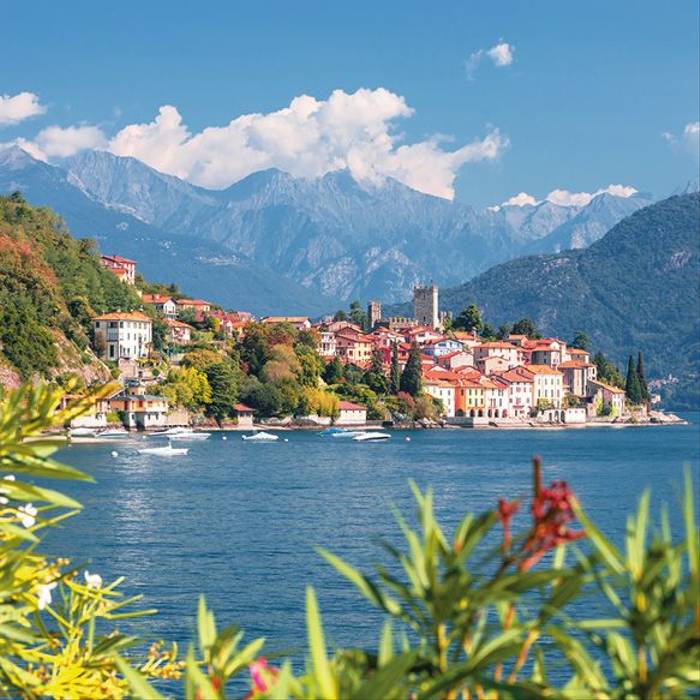 No stay here is complete without a trip onto the water, and a short boat ride can take you to Isola del Garda - the lake's biggest island, home to an impressive Venetian-Gothic villa with a history stretching back to Roman times. For a different experience, the revolving cabins of the Monte Altissimo Cable Car offer knockout views from up to 1760 metres – not just of the lake, but all the way over to the rose-tinted spires of the Brenta Dolomites.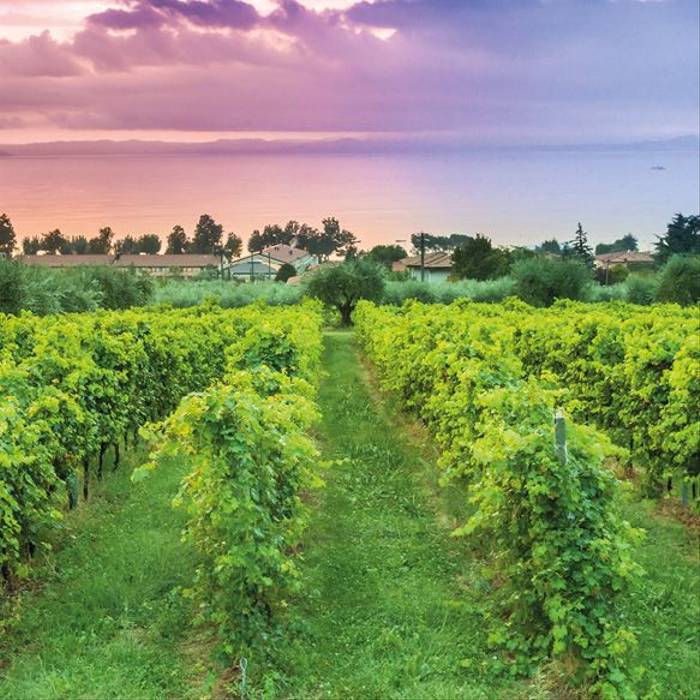 Lake Garda
- Hotel Stay and Tour
Today you'll enjoy a fabulous wine tour at a local winery. Beginning with a tour of the winery and beautiful vineyard, you'll discover more about the soil and grapes as well as learn about how each bottle of wine is made. Tickle your taste buds with wine samples which you can savour with some delicious nibbles of breadsticks, cheese and olives.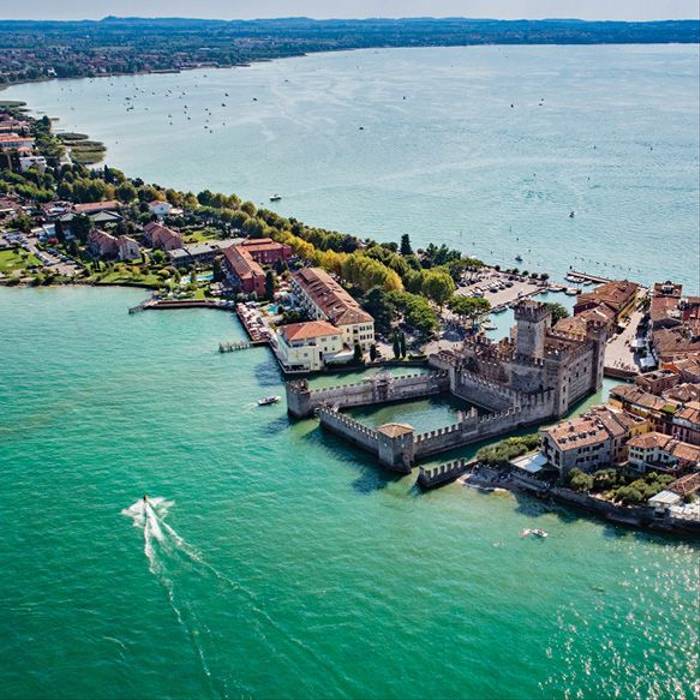 During your time here you could visit Sirmione and delve into its thermal springs, extraordinary castle and Roman ruins; or Riva del Garda with its medieval fortifications and cobblestone streets. Each little town brings a plethora of new discoveries: a church resplendent with Renaissance frescoes, a botanical garden or mountains with snow-capped peaks.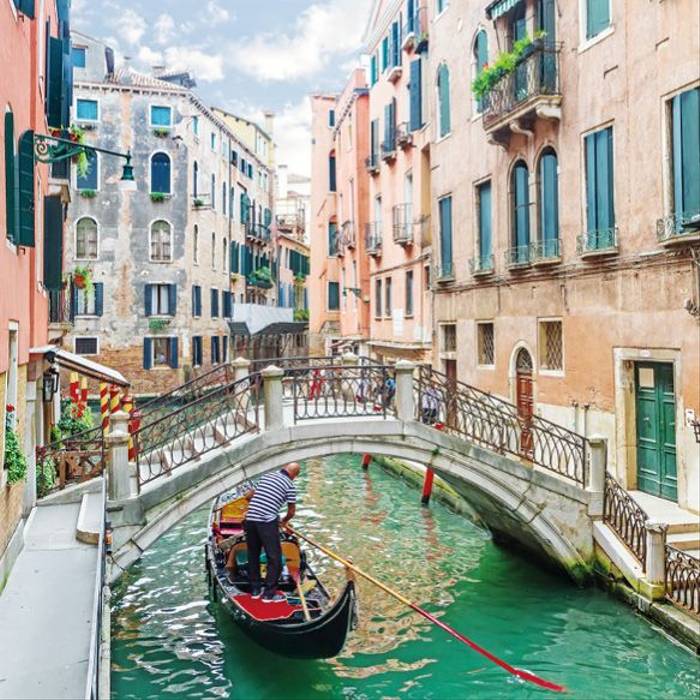 Saying goodbye to Lake Garda's stunning beauty, you'll be transferred to enchanting Venice. Discover secret passageways, dramatic Gothic architecture and the famous Venetian cuisine; all of which contribute to the beauty and intrigue of this captivating city. Defying both logic and architectural techniques, the city stands as beautiful as ever, an incredibly well-preserved network of waterways and grand palazzi. Take a trip on a gondola, an iconic experience and undisputed romantic symbol of this timeless city.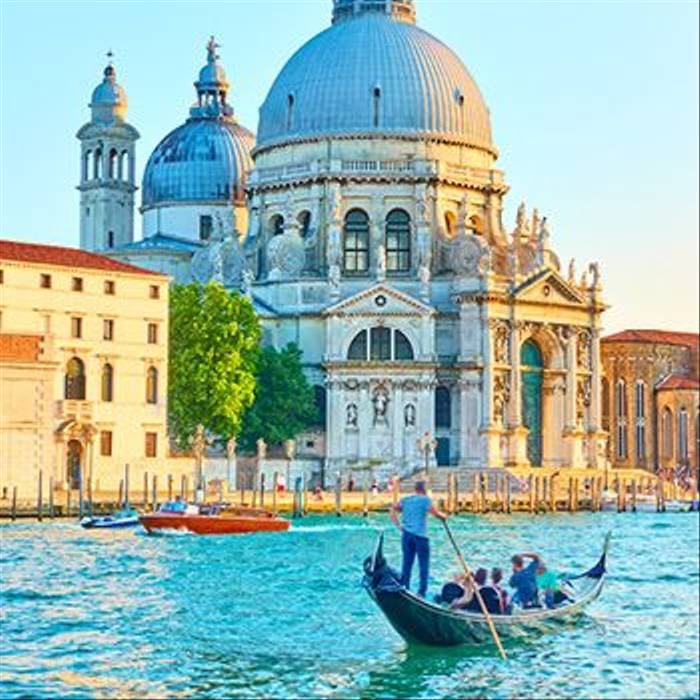 Venice is an enchanting city of beauty and intrigue. Discover seductive passageways that lead to secret squares and dramatic Gothic architecture, and sample the famous Venetian cuisine, a plate of baccala mantecato perhaps, or a risotto al nero di seppia. While Venice is famed for its floating city status, there's so much more magic to explore beyond the iconic Grand Canal gondola rides.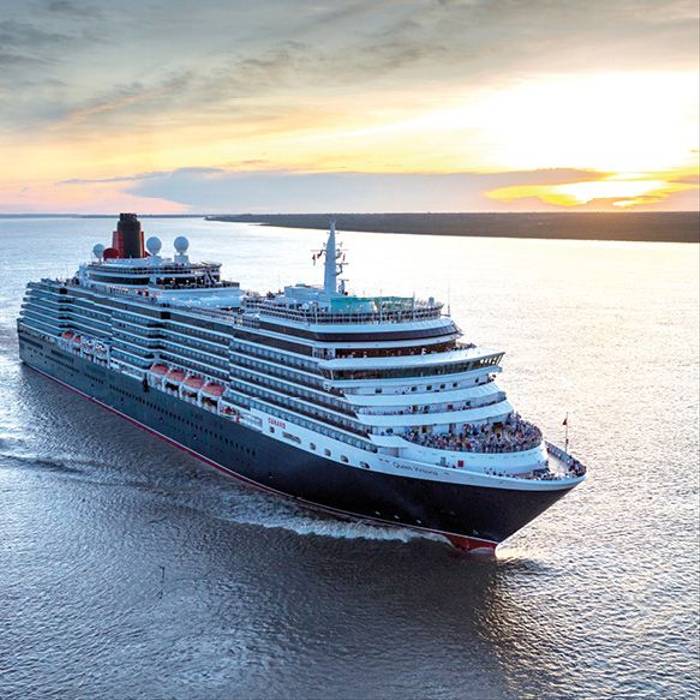 Venice
- Embark Queen Victoria
Queen Victoria is a ship designed with all the modern conveniences but with the splendour evocative of great ocean liners past. From her plush, elegantly decorated public rooms to her gourmet dining and luxurious cabins, Queen Victoria exudes class.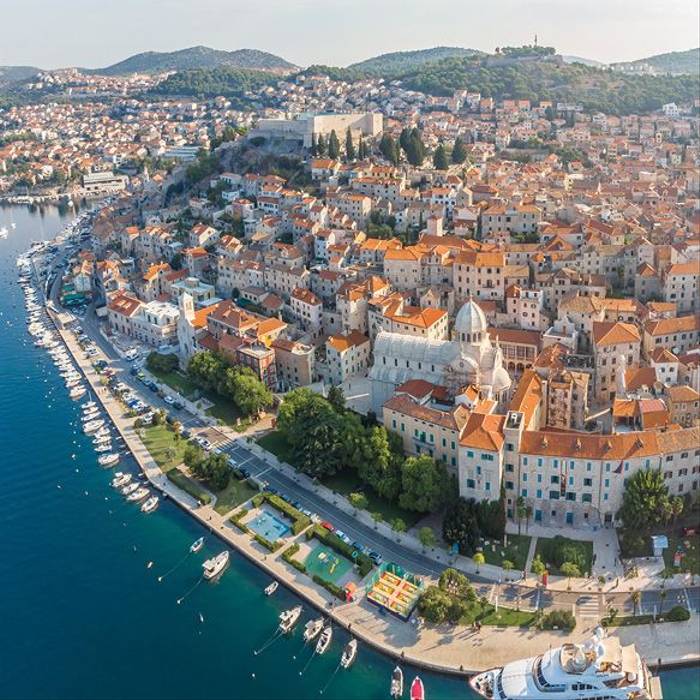 For a rustic glimpse into a medieval town, you couldn't find anywhere better than Šibenik. With cobblestone streets and unparalleled views of shimmering blue waters, you have the day to explore to your heart's content. Wander in the hallowed hall of the cathedral, a UNESCO World Heritage Site, where 71 faces are sculpted into the surface, or simply absorb the atmosphere of escaping into the past by walking down its narrow alleys.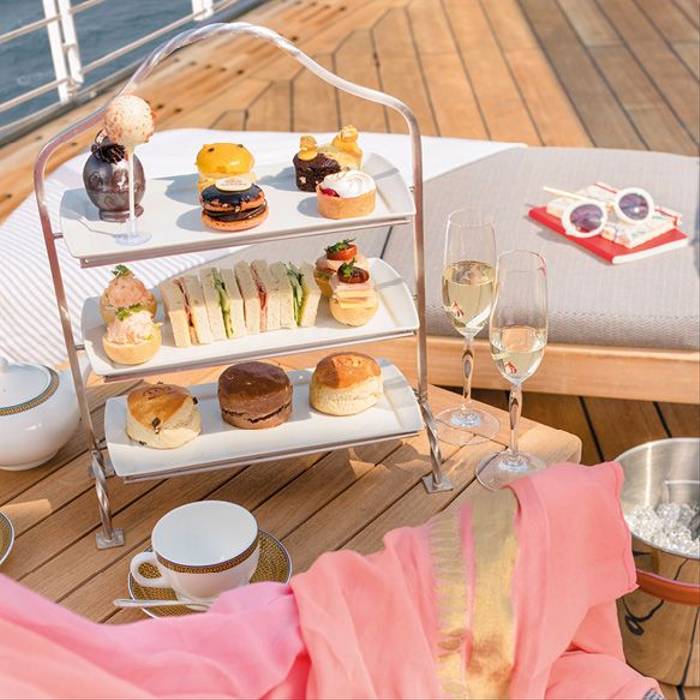 Indulge in the sumptuous spa, experience Cunard's luxurious and refined service at afternoon tea served by white-gloved waiters, catch a show in the Royal Court Theatre or dance the night away in the magnificent surroundings of the Queens Ballroom – it's all up to you.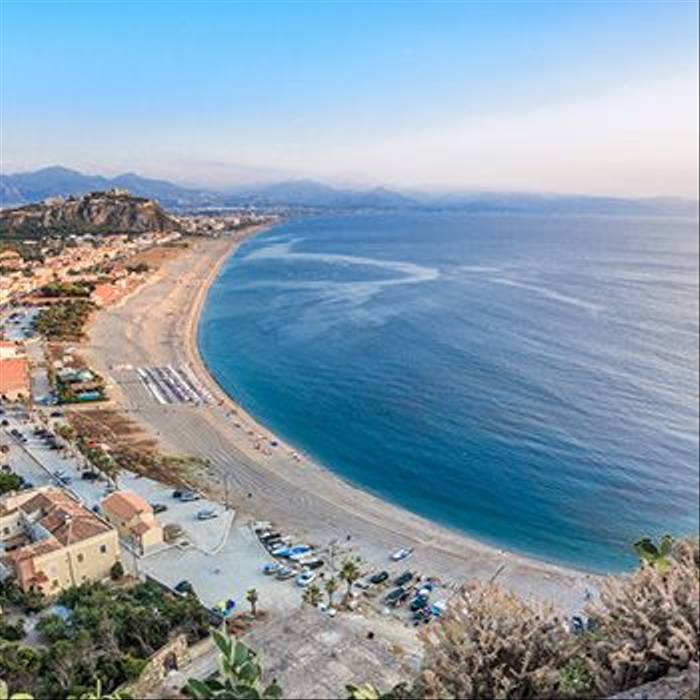 The Strait of Messina is a narrow waterway between the eastern tip of Sicily and the southern tip of Calabria in the south of Italy. A cruise down this strait provides beautiful views of the neighbouring countries' coastlines.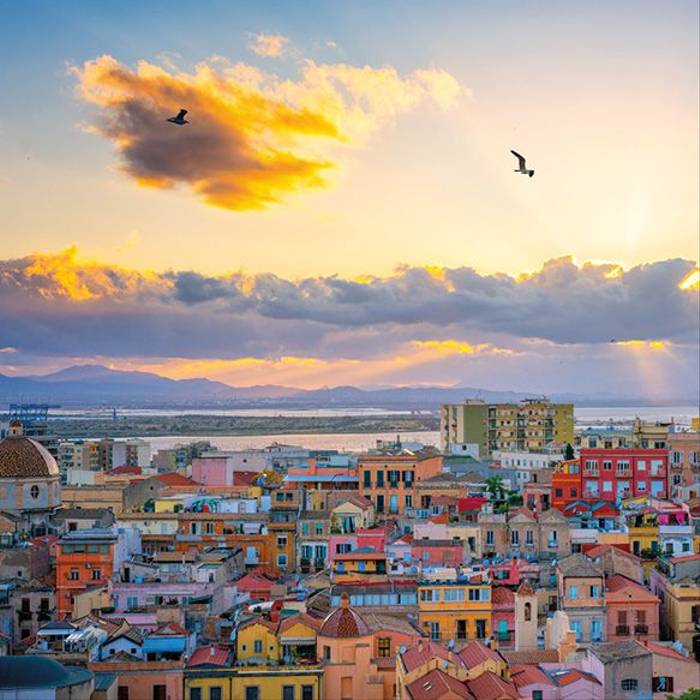 Be enchanted by gorgeous expansive beaches at Poetto, take in the views at the aptly named Gulf of Angels, or visit the stunning 2nd century Roman amphitheatre, before tucking into traditional Sardinian food.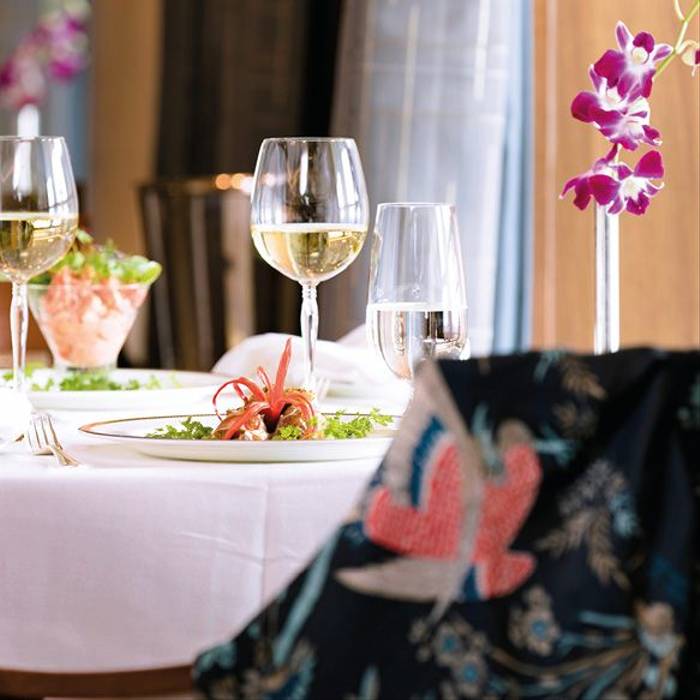 Queen Victoria offers an array of elegant bars and lounges to suit every mood – during the day, sip coffee and nibble on croissants in Café Carinthia; enjoy pre-dinner drinks in the Chart Room; toast friends in the Champagne Bar; and dance the night away in Hemispheres.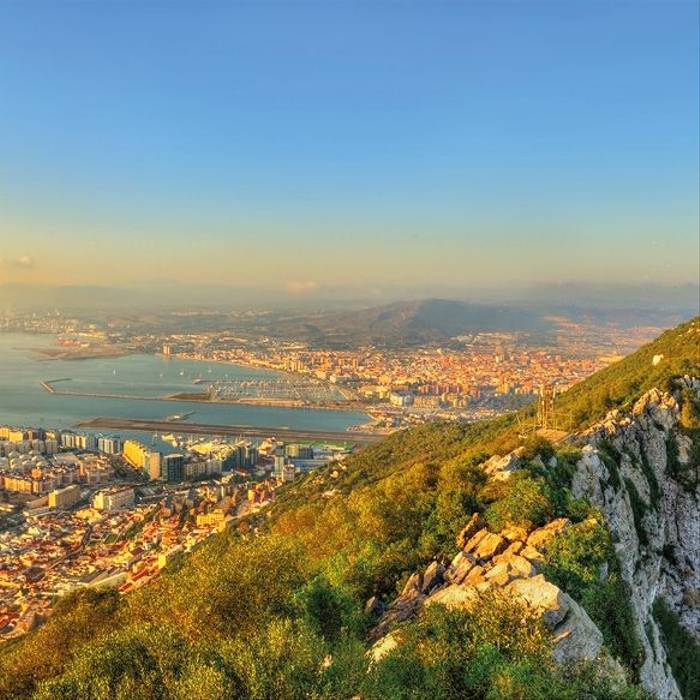 This British-owned territory is full of British quirks - afternoon tea, fish and chips and traditional pubs – and has a long and fascinating history due to its strategic position between Africa and Europe. Explore its iconic rock and watch out for the cheeky Barbary macaques.
DAY 15 - 17
| 17 - 19 Oct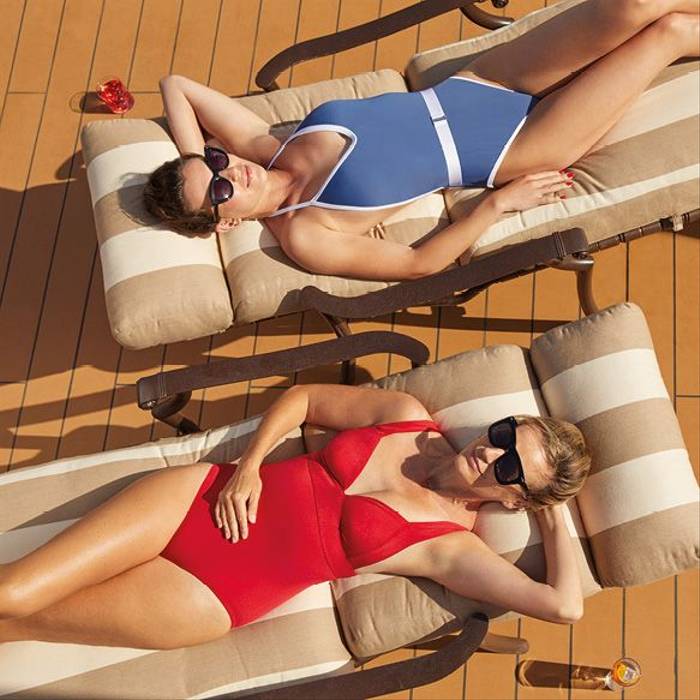 Your days on board the Queen Victoria can be active and lively, or as calming and chilled as you like; there's something on board to suit your every mood from swimming in the pool to relaxing in the spa; joining in with Book Club to browsing the Royal Arcade.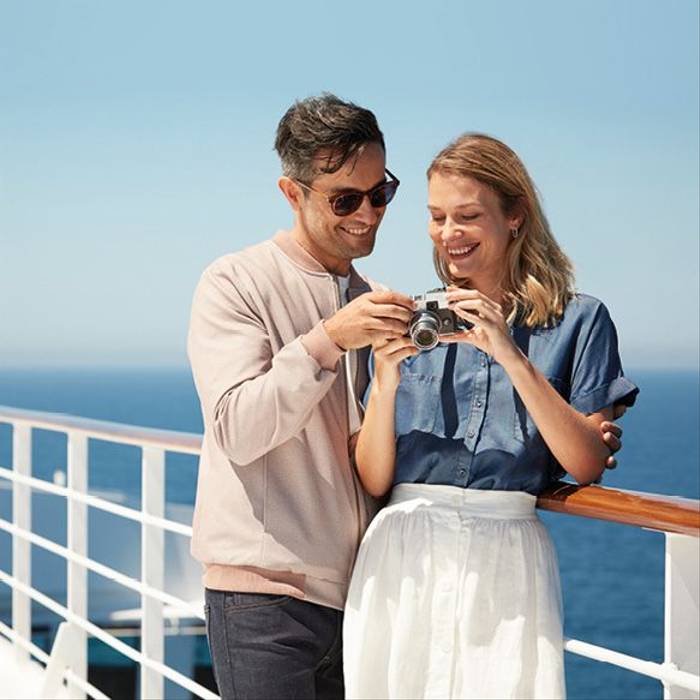 Southampton
- Disembark Queen Victoria
Today you'll say goodbye to your Mediterranean adventure and disembark Queen Victoria.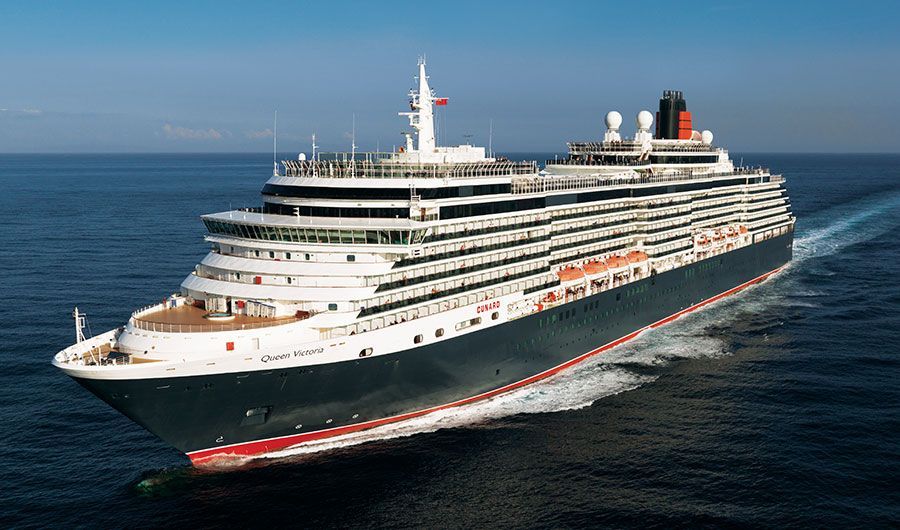 There's something distinctly refined and regal about a Cunard cruise and the beautiful Queen Victoria certainly upholds the fine traditions of this luxury line. Even before you board this beautiful ship you'll note the trademark black and red livery which, together with her sleek modern design, immediately sets the theme of proud cruising heritage married with innovative features for today's cruise guests. From her plush, elegantly decorated public rooms to her gourmet dining and luxurious, spacious cabins, Queen Victoria exudes class. The range of options for high-quality entertainment and enrichment, as well as serene relaxation make for the cruise holiday of a lifetime.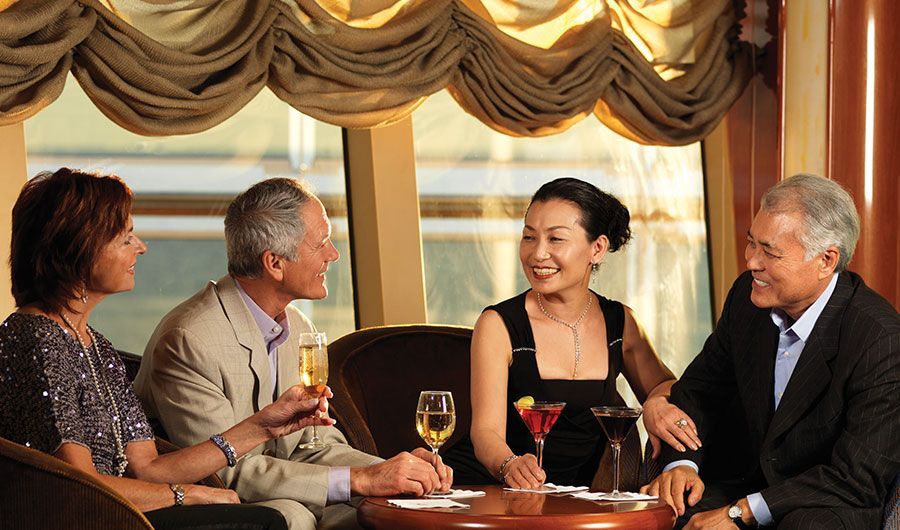 Queens Room
Head here for traditional afternoon tea or to dance the night away at one of the glamorous balls.
On Deck
Take part in Cunard's traditional games of shuffleboard and deck quoits. Challenge friends or join in one of the organised tournaments.
Commodore Club
Enjoy a signature cocktail as you sail towards the horizon or try the Martini Mixology or Whisky Tasting classes.