Secrets of Machu Picchu & Andean Explorer
Includes a Fully Escorted Machu Picchu Tour and All-Inclusive Silversea Cruise
All-inclusive Luxury Andean Explorer Rail Journey
22 nights | 01 Dec 2020
Secrets of Machu Picchu & Andean Explorer
Includes a Fully Escorted Machu Picchu Tour and All-Inclusive Silversea Cruise
All-inclusive Luxury Andean Explorer Rail Journey
22 nights | 01 Dec 2020
Secrets of Machu Picchu & Andean Explorer
Includes a Fully Escorted Machu Picchu Tour and All-Inclusive Silversea Cruise
All-inclusive Luxury Andean Explorer Rail Journey
22 nights | 01 Dec 2020
Get The Full Experience...
Discover the secrets of the Incas on a tour of Machu Picchu followed by a journey on the Andean Explorer and all-inclusive cruise through the Panama Canal to Florida.
From Lima, you'll fly to Cusco where you'll spend a day in the peaceful Sacred Valley with its remote villages and Inca sites. You'll also begin a series of tours that will reveal the history and culture of the Incas, including a visit to Machu Picchu where you'll walk amongst the ruins of this ancient citadel. Returning to Cusco, you'll embark the Andean Explorer, South America's first luxury sleeper train that weaves its way through the Peruvian Andes to the white city of Arequipa, taking in the beautiful waters of Lake Titicaca. Your Andean discovery complete, you'll fly to Lima to meet Silver Moon. Sail through the amazing Panama Canal to the Caribbean, where you'll visit ports in Costa Rica, Honduras, Belize and Mexico on your way to Fort Lauderdale.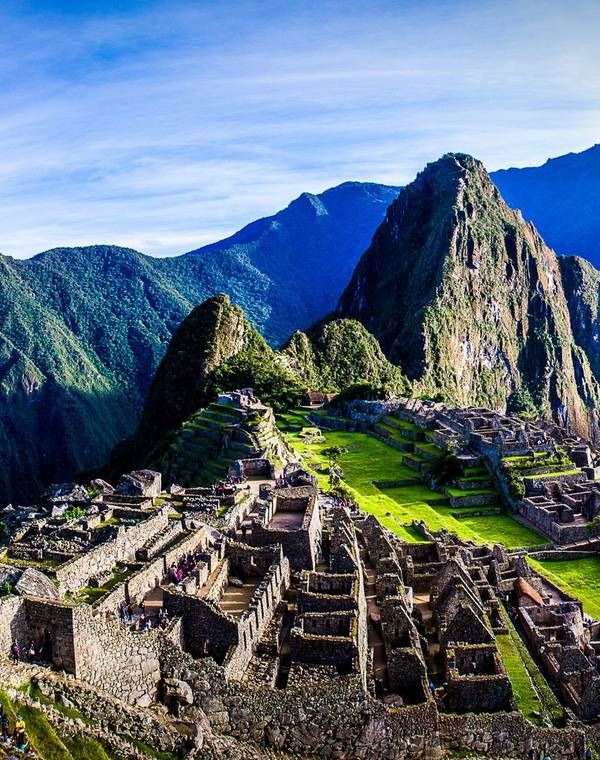 Package Includes
1 night five-star stay in Lima at the El Pardo DoubleTree by Hilton Hotel
3 night five-star stay in Cusco at the Palacio del Inka Hotel
Fully escorted tours of Cusco city and Machu Picchu
1 night five-star stay at the Aranwa Sacred Valley Hotel & Wellness
Fully escorted tour of Sacred Valley
2 night all-inclusive luxury Belmond Andean Explorer rail journey from Arequipa to Cusco with an off train excursion at Lake Titicaca
15 night all-inclusive luxury cruise on board the brand new Silver Moon
Pre-paid gratuities and complimentary WI-FI on board
In-suite butler service and fully stocked fridge
All-inclusive alcoholic and non-alcoholic beverages including fine wines and premium spirits whilst on board
Overnight in port in Lima
All hotel stays include breakfast
All transfers
All flights (London departure)
ATOL protected
Flight from
Other regional airports may be available*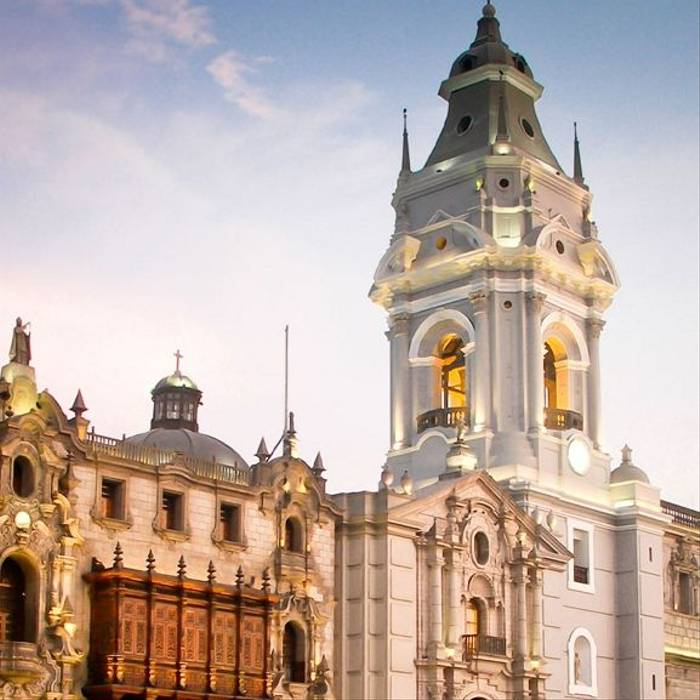 Fly to Lima, a city of contrasts between its historic centre, with remnants of ancient city walls, baroque cathedrals and colonial buildings; and the modern areas of upmarket Miraflores and bohemian Barranco, with their vibrant restaurant and bar scenes.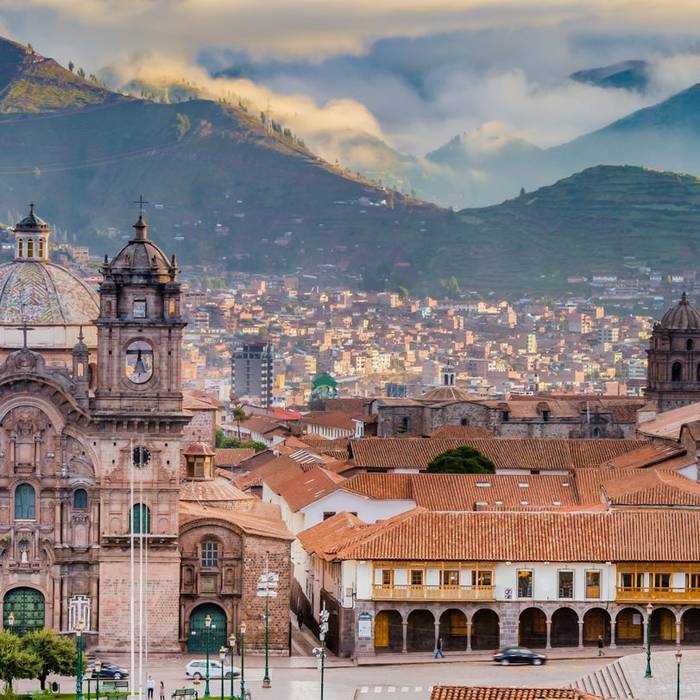 Today you'll fly from Lima to Cusco, the capital of the Incan empire, and the gateway to the magnificent Machu Picchu. For your overnight stay here, this is plenty of time to absorb the energy of this amazing city. Discover its eclectic mix from the Inca ruins surrounding it, to the ornate cathedral to its fascinating museums.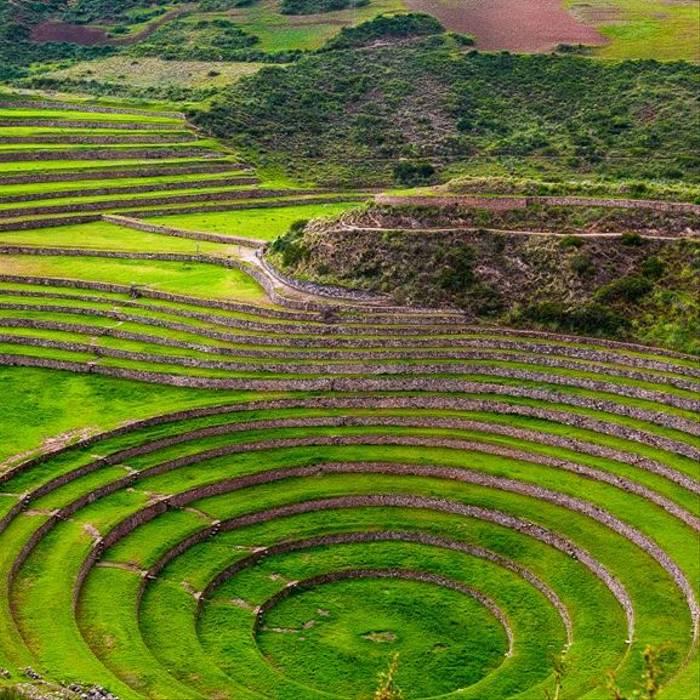 Sacred Valley
- Hotel Stay and Tour
Today you'll tour the beautiful Sacred Valley, exploring the picturesque village of Pisac with its narrow streets and traditional market; and the inhabited city of Ollantaytambo, where you can still see the foundations and irrigation channels from when the village was first built. You will also explore Ollantaytambo's terraces, fortresses and the Sun Royal House, a megalithic temple of great mystical value, before returning to Cusco.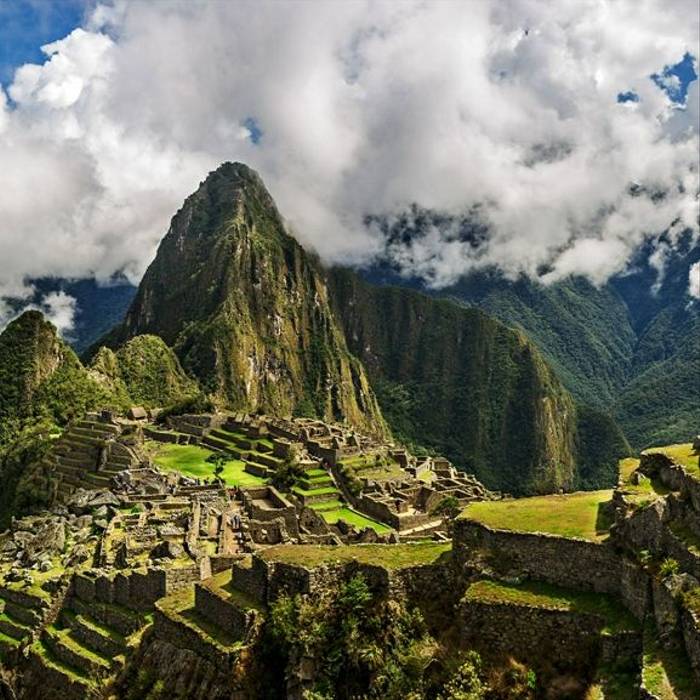 Cusco
- Hotel Stay and Machu Picchu Tour
Nestled within the Andean foothills and shrouded by swirling clouds and subtropical forests, the sight of Machu Picchu is incredible to behold and the pinnacle of your Peru stay. Discover this amazing site during a full day tour as you uncover the ruins of temples, palaces and squares surrounded by mountain slopes, peaks and valleys.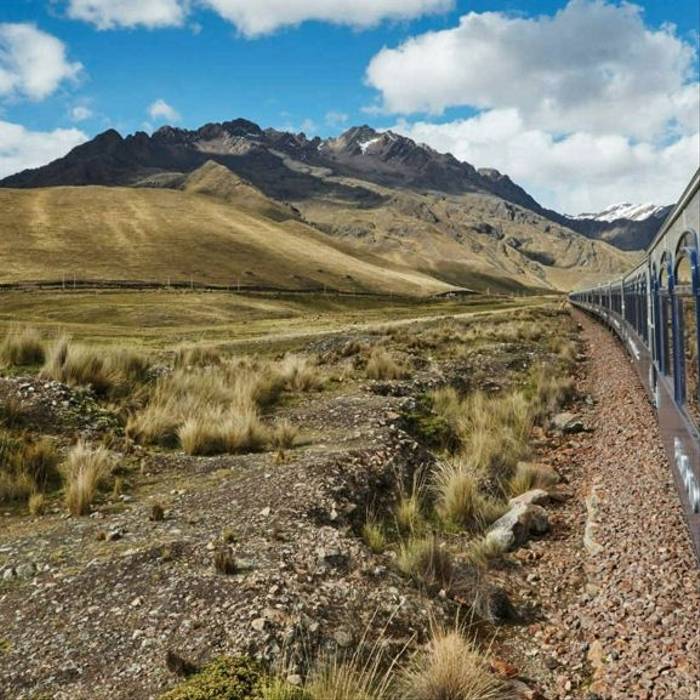 Arequipa
- Embark Andean Explorer
A short flight takes you to Arequipa, where you'll embark the Andean Explorer. Experience the comfort, style and unrivalled service of this luxury train as you are whisked through the incredible scenery of the Peruvian Andes along one of the highest train routes in the world. As the night draws in, get to know your fellow travellers over a pisco sour in the Observation Car before savouring fresh seasonal dishes in one of the two elegant dining carriages.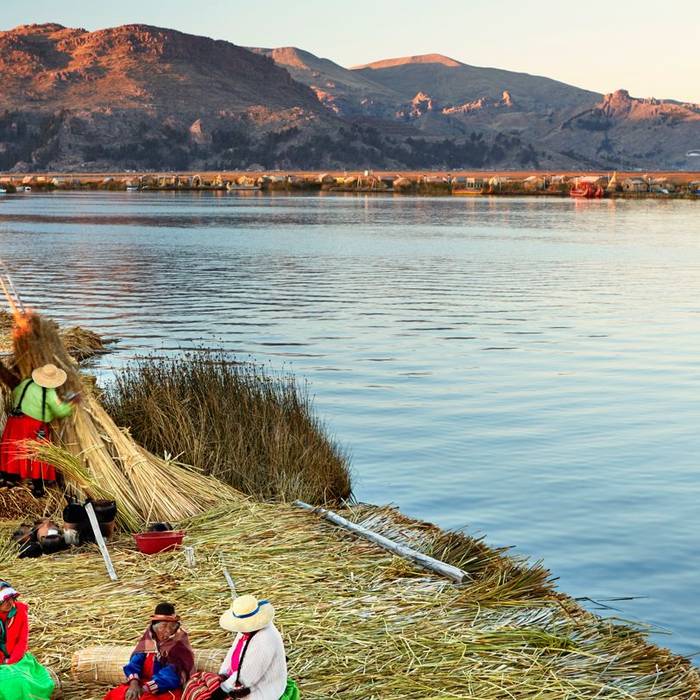 Andean Explorer
- Lake Titicaca
This morning you'll witness the sun rise over the bright blue waters of Lake Titicaca, the highest lake in the world and according to Andean legend, the birthplace of the sun. Following breakfast on board you'll take a boat trip to the Uros Islands, man-made of totora reeds, and Taquile, where you'll enjoy a private lunch with displays of local crafts and traditional dancing. You'll arrive back at the train in time for afternoon tea before setting off on your journey towards Cusco.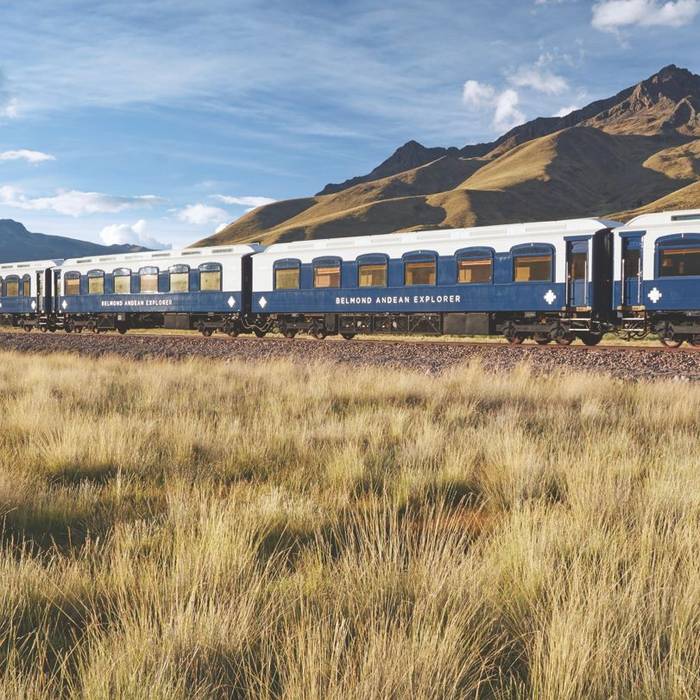 Cusco
- Disembark Andean Explorer, Hotel Stay and Tour
After a morning stop to tour the Inca ruins at Raqchi, you'll disembark the Andean Explorer in Cusco at lunchtime. Here you'll enjoy a sightseeing tour of the key sights in Cusco and the surrounding area, including the ruins and gardens of the most sacred building of the Incan empire, the Temple of the Sun or Q'oricancha, and the archaeological sites of Sacsayhuaman, Q'enco, Puca Pucara and Tambomachay.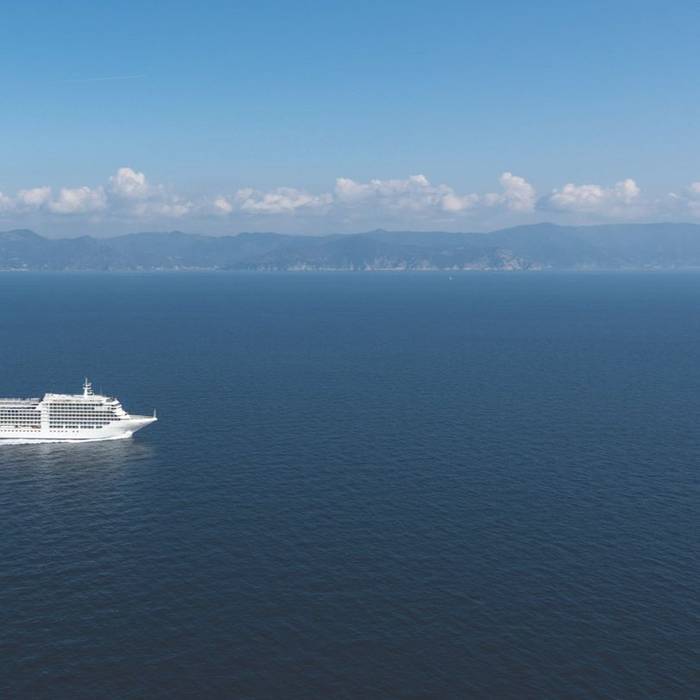 Callao (Lima)
- Embark Silver Moon
Next you'll fly to Lima where you'll embark Silver Moon, the latest addition to the Silversea fleet and the epitome of 21st century luxury cruising. As a sister ship to Silver Muse, Silver Moon will mirror many of her popular features, including the dining venues Atlantide and Kaiseki, while maintaining the small-ship intimacy and spacious accommodation that are the hallmarks of the Silversea's cruise experience.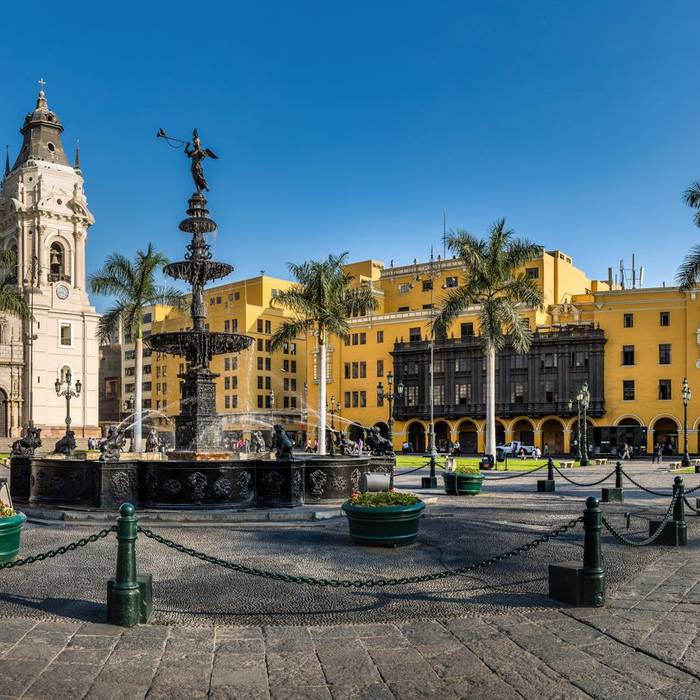 From colonial treasures and exquisite museums containing rich history, to ancient Incan temples lining its edges, you cannot go wrong with an expedition to discover this city. During the day, discover its secrets in the shells of the past civilisation. Then, in the evening, sample some truly Peruvian cuisine in the form of lomo saltado pisco – succulent fried beef mixed with tomatoes, peppers, onions and fried potatoes.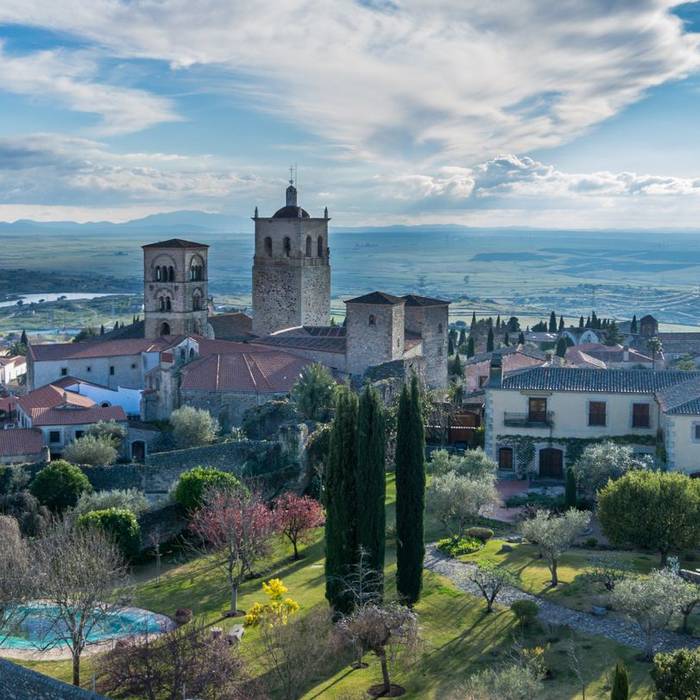 Salaverry is close to many of northern Peru's attractions including colourful Trujillo, with its bright blue, yellow and red buildings. The archeological site of Chan Chan, and the sacred pyramids of the Huaca del Sol and Huaca de la Luna are also within easy reach, as are some sleepy beach villages where you can sit back with a cerveza and watch the fishing boats come and go.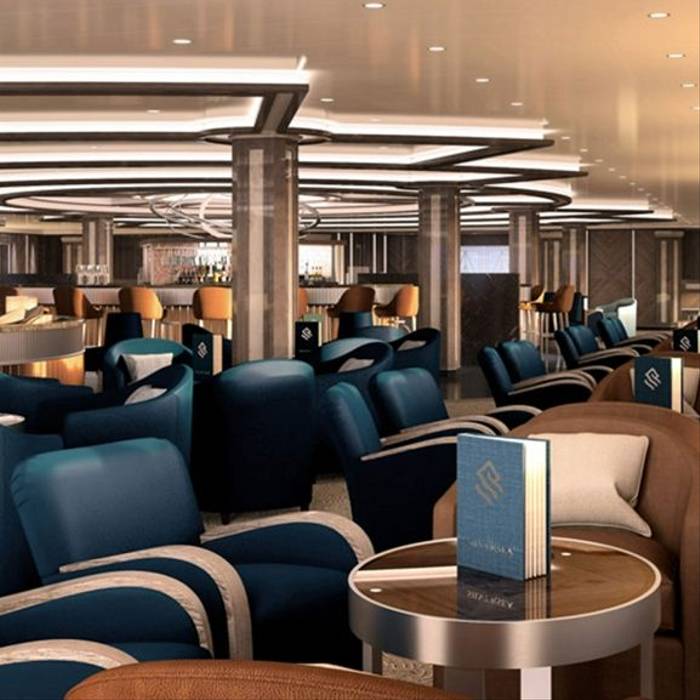 During your day at sea, relax in your spacious suite and let your butler take care of your every need. Or you could explore the elegant public areas on board Silver Moon, from the Observation Library to the Panorama Lounge - the perfect place to unwind, enjoy afternoon tea, listen to the pianist and watch the sun set.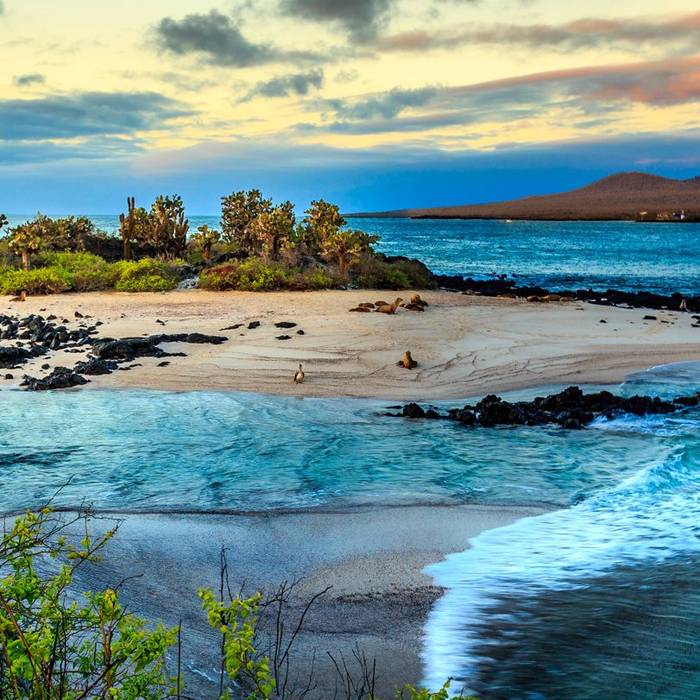 This port town has some interesting museums and pretty parks but for most travellers it is a stepping stone to visit Quito and the Galapagos Islands, an archipelago renowned for its astonishing variety of wildlife. During your time here, you could also visit the quaint colonial town of Montecristi, home of the Panama hat. It is full of Spanish charm and market stalls selling colourful handicrafts including, of course, Panama hats.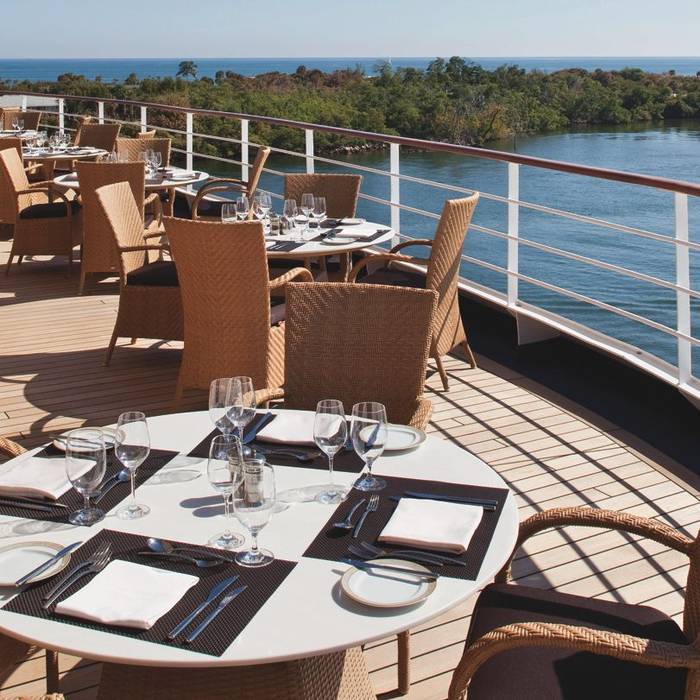 On board this luxury cruise ship you'll find a divine selection of Italy's best cuisine is served à la carte in La Terrazza. Authentic recipes and the freshest ingredients come together with flair and passion — a flavourful expression of Silversea's distinctive Italian heritage.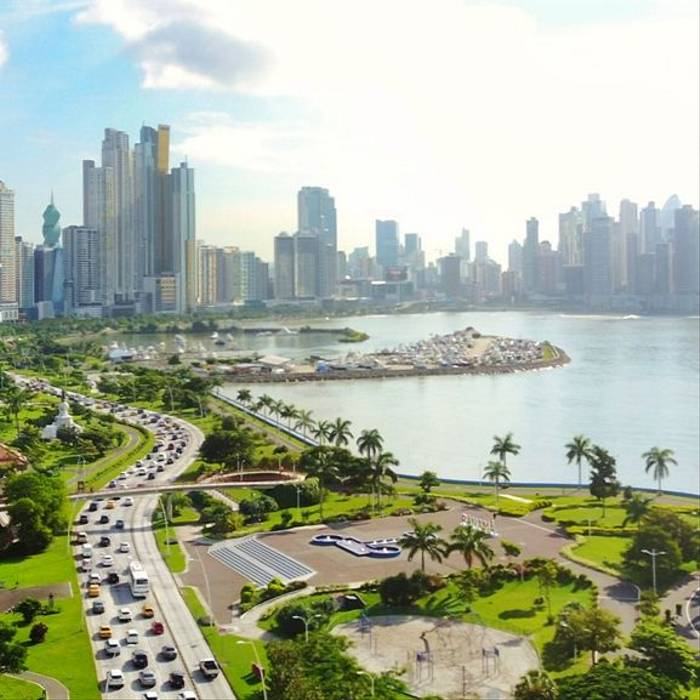 Fuerte Amador (Panama City)
Welcome to the capital of Panama! Vibrant and diverse, this city offers rhythm and dance in the streets, mixing both the old and the new, from colonial-era buildings to the ruins of Panamá Viejo – the city's first Spanish settlement – to gleaming glass skyscrapers. If you want to escape the bustle you could even explore the surrounding rainforest or one of the secluded sun-kissed beaches.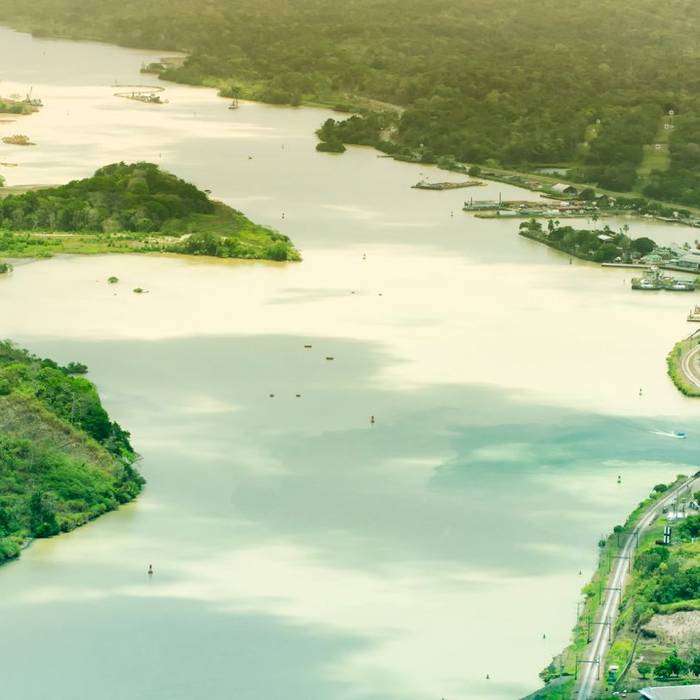 Panama Canal (Scenic Cruising)
Quite simply, the Panama Canal is so much more than a functional link between the world's two great oceans. Immense locks along the Panama Canal's 80km raise cruise ships 26 metres, as you come face to face with the canal sides and then enjoy the sights and sounds of the colourful birds and animals that inhabit the lush forests beyond.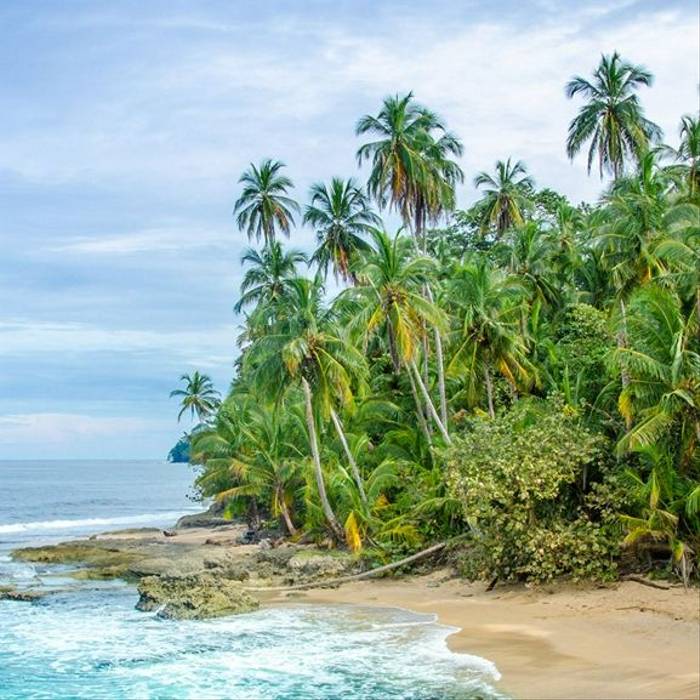 From street vendors to blissful beach escapes, this city in Costa Rica does its best to convince you to stay. Heralded for its surrounding natural beauty, take a jungle safari and spot some monkeys or vibrant birds soaring overhead.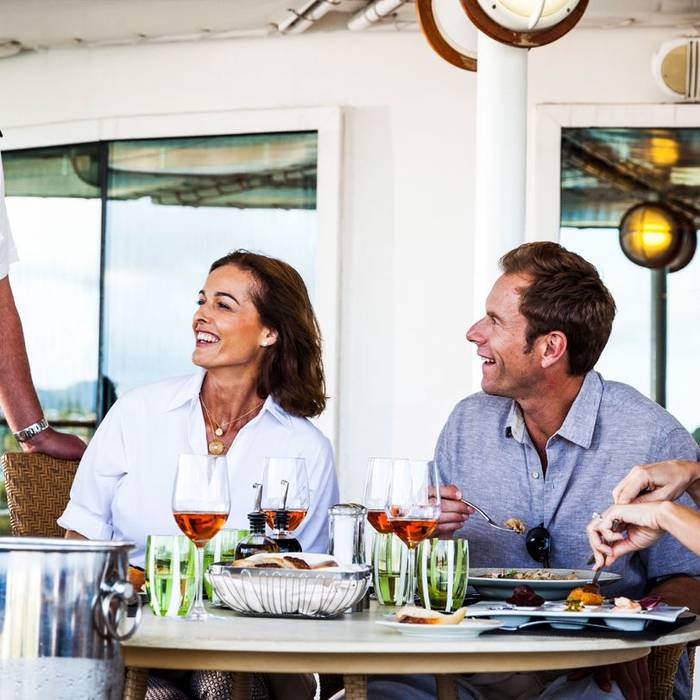 Enjoy a taste of the finer things in life at Dolce Vita as you sip on your favourite cocktail to the strains of grand piano. Or catch up with friends in the Panorama Lounge after dinner and dance the night away to house DJ. For those who prefer a tranquil venue for an after-dinner digestif, Connoisseur's Corner offers a prestigious range of cognacs and whiskies as well as cigars.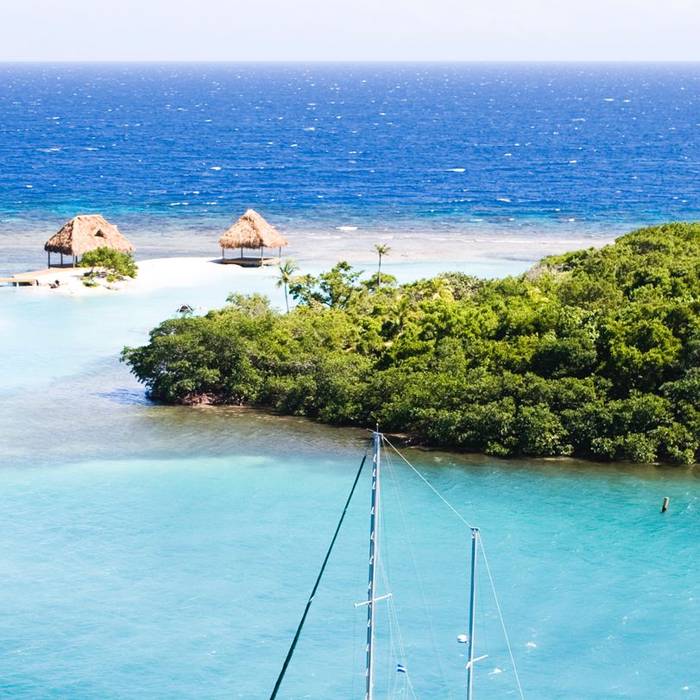 Experience the Caribbean at its best – with powder sand beaches and dolphins surfing the waves. If you want to explore more of its natural beauty, travel further into the island and discover the verdant lush jungles or simply lie on one of its beautiful beaches and soak up some rays.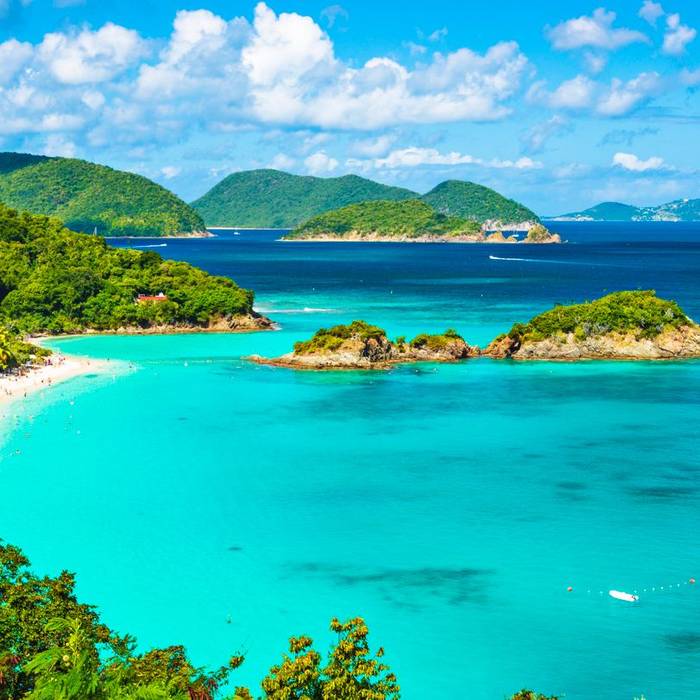 Today, discover Santo Tomas in Guatemala, the home of Mayan relics, stunning natural beauty and vibrant wildlife. Uncover the history of the Maya people by heading to Quirigua Archaeological National Park, a UNESCO World Heritage Site, where crumbling temples stand guard over their past. Alternatively, dive deeper into nature through the lush jungle that is spotted with colourful toucans to visit Las Escobas Springs, a glittering jewel hidden deep in the rainforest.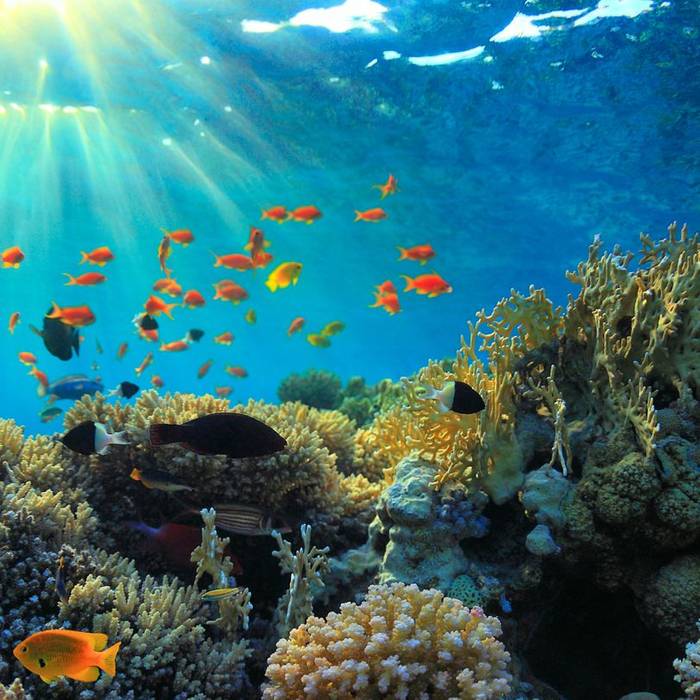 A colourful city filled to the brim with colonial houses and history, Belize City offers you your first glimpse into the country. Bragging the second largest coral reef in the world, dive beneath the waves to discover its vibrant colours. If you want to keep your feet on dry land, head further into Belize and uncover ancient Mayan temples, eerily standing guard over its past.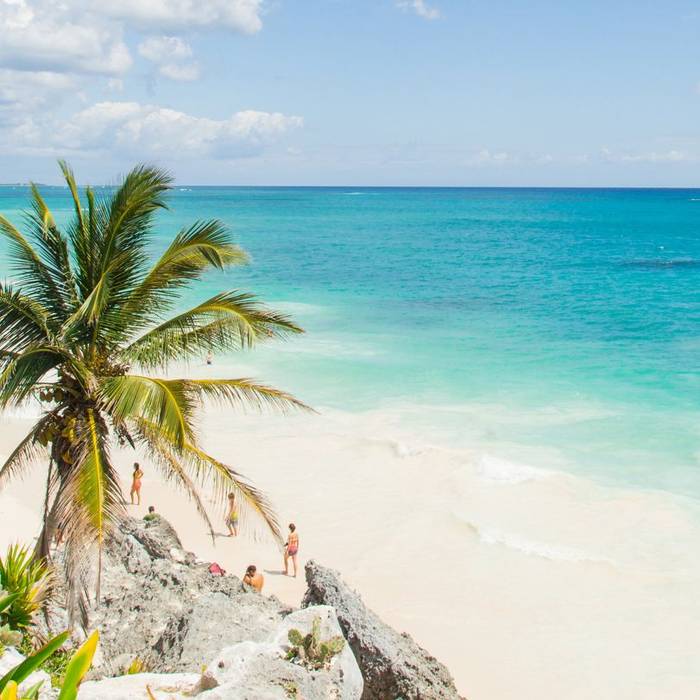 With its lively tropical reefs, crystal-clear waters and ancient ruins, Cozumel offers beach sunshine and culture in equal measure. Head to Chankanaab National Park to snorkel among the colourful reefs and tropical fish that give this island its premier diving status or travel back in time on an adventure through the towering Maya ruins of Tulum. When you're done exploring, unwind with a beachside massage at Playa Mia.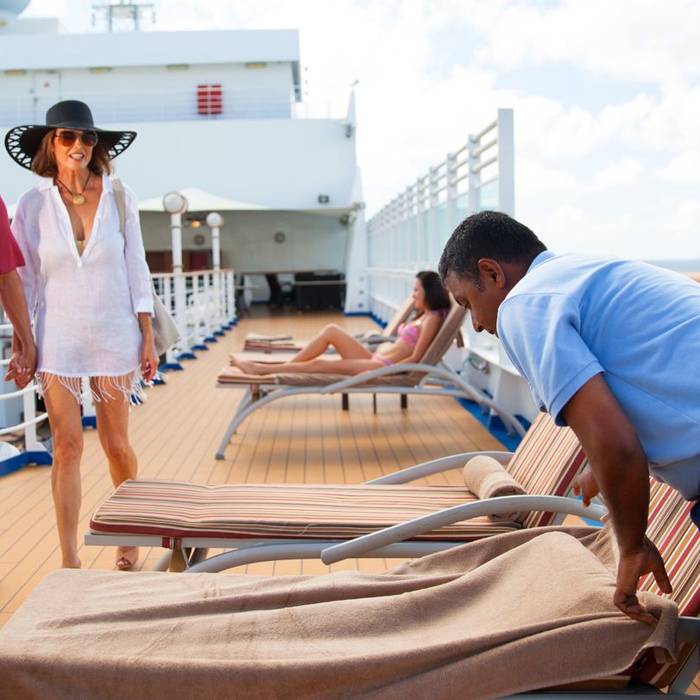 Enjoy some outdoor time on the sheltered pool deck with its sparkling pool and whirlpools as waiters from the nearby bar and grill make sure you stay refreshed all day. Silver Moon also has a jogging track and a fitness centre that runs complimentary Pilates and yoga classes as well as a personal trainer for those who want to be more active during their days at sea.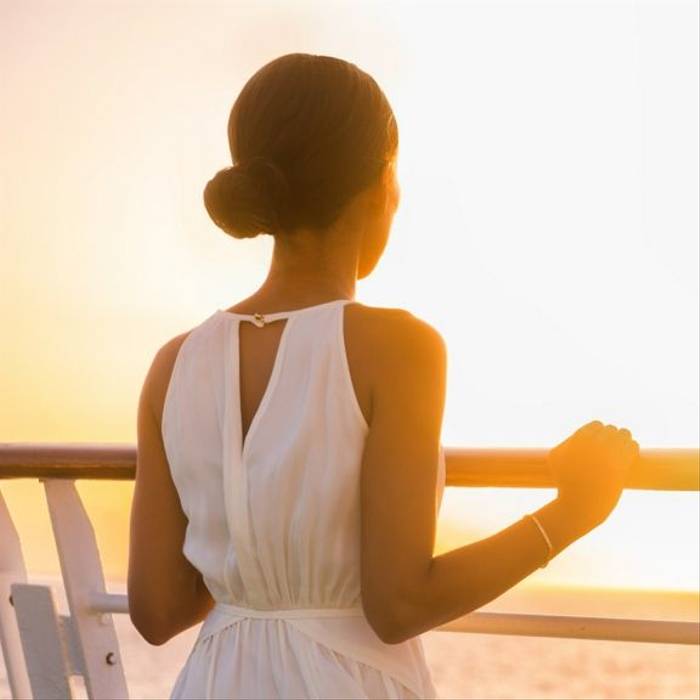 Fort Lauderdale
- Disembark Silver Moon
Disembark Silver Moon and fly home.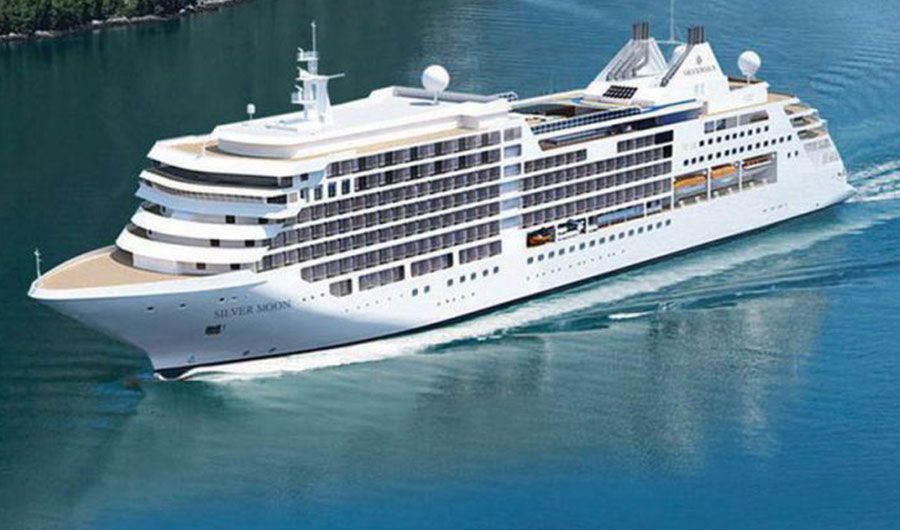 With sleek lines and impeccable taste, Silver Moon will make her debut in August 2020 in the only way Silversea know how – luxurious style. Similar to her sister ship, Silver Muse, Silver Moon offers her guests new dining venues, larger spa facilities and even more stylish opulence. Choose from one of the six restaurants to explore world cuisines from Atlantide with its European seafood dishes to Kaiseki where you can sample delightful sushi rolls and hibachi from Japan. With a new culinary immersive experience to explore each destination's delectable treats together with traditional Silversea hallmarks such as spacious suites and a butler service to attend to your every need – you'll discover a whole new side to luxury cruising with Silver Moon.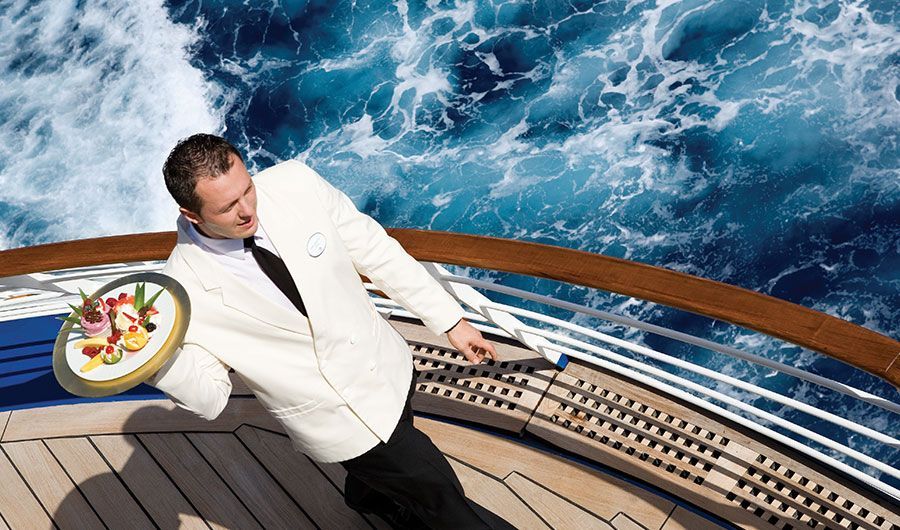 Sea and Land Taste
Take an immersive culinary tour of every destination with the all-new Sea and Land Taste (S.A.L.T.) programme.
Silver Note
Sample delicious tapas or enjoy the sophisticated evening menu to the sound of live jazz and blues.
Venetian Lounge
Stunning shows and live entertainment acts make every evening on board an unforgettable experience.