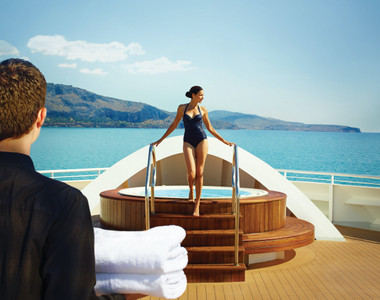 Cruise with
Seabourn
Providing ultra-luxury cruises in an understated yet elegant setting, Seabourn serves up a seafaring experience that is simply unforgettable, with relaxed intimate ships that are home to lavish dining venues and plush theatres. Seabourn sails to some of the most desirable destinations in the world, from world-renowned cities to smaller, exclusive ports that are out of bounds to larger ships.
A pioneer in small-ship, ultra-luxury cruising, Seabourn is understandably one of the industry leaders of that mode of travel. On board, you're served by an award-winning crew who almost equal the number of guests, carefully selected and trained to deliver Seabourn's inimitable style of thoughtful, personalized and heartfelt hospitality.
Seabourn 2022 & 2023 Voyages
The Experience
Seabourn's ships offer one of the most luxurious experiences on the ocean waves, attracting passengers who enjoy traveling in style and meeting like-minded people. From exquisite, award-winning dining to lavish spas and state-of-the art gyms, as well as enthralling musical productions, it's an environment in which you can blissfully lose yourself. You can also count on impeccable service and unsurpassed hospitality.
Entertainment
By day you could indulge your gastronomic side with cookery classes or broaden your knowledge with lectures, while at night you'll find something going on throughout the ship. Musical aficionados will love An Evening With Sir Tim Rice, which is a must for fans of the award-winning lyricist behind some of the West End and Broadway's biggest shows. In the Grand Salon you'll delight in nights of comedy, cabaret and film favourites.
Gastronomic excellence
All dining venues are complimentary on Seabourn cruises, which means you can dine when, where and with whom you choose. Gastronomic excellence is never far away and the recipes are concocted by the finest chefs, including the Michelin-starred Thomas Keller, who brings classic Americana to the table with his lobster thermidor and other iconic dishes. There's also first-class sushi and elegant alfresco dining beneath the stars.
Serenity in the spa
Named one of the 'Favourite Spas at Sea' by the readers of SpaFinder.com, Seabourn's spa has teamed up with Dr Andrew Weil, a visionary pioneer in integrative medicine, to bring you an ocean-going first in wellness and beauty. The spa offers an extensive list of massages, facials and beauty treatments, combining traditional practices from around the world with up-to-the-minute techniques.
Bars and lounges
Scan the waves for marine life at the Bow Lounge – close to water level - or savour the 270-degree views at the Constellation Lounge with a glass of fine wine. Like its dining venues, the bars and lounges on Seabourn ships are chic, elegant and welcoming and the drink selection is exceptional. In all of them you'll relish mingling in a convivial club-like atmosphere where nobody has to pick up a tab.
Ventures by Seabourn®
This optional excursion program operates in select destinations on the following Seabourn ships: Sojourn, Quest, Encore and Ovation. It allows guests the opportunity to get more out of their holiday, with adventurous land activities that are carefully planned and professionally operated. Under the auspices of skilled expert guides, you'll be treated to a more enriching experience.